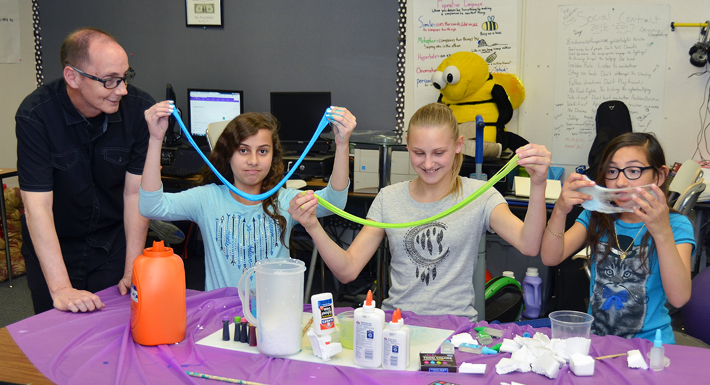 15 Mar

Student-run businesses blossom at Parson Elementary School

The entrepreneurial spirit is alive and well at Claude and Stella Parson Elementary School, thanks to a new program being run by the school's fifth-grade students and their teachers.

Student-run businesses are now being operated in the classrooms of Samantha Sweeney, Casey Korder and his wife, Debbie Korder. The three teachers are helping their students run their own businesses in connection with a program funded by Real World Scholars and EdCorps.

Casey Korder initiated the program at Parson. He said Parson's three student-run businesses are among approximately 215 such enterprises throughout the United States, and the only such enterprises in Nevada. The three businesses are:
Sweeney's Luxurious Products, which makes bath bombs and sugar scrubs

Korder's Creative Creations, which produces slime and hand-painted flower pots

Korder's Corner, which specializes in slime and scented candles

Wait, did we say slime?
According to Fortune.com, "Stores can't keep enough Elmer's glue in stock because of a craft fad sweeping school-age children: making slime." The gooey substance is made from glue, water, Borax and food coloring. Its popularity has skyrocketed, largely thanks to social media. This fact was not lost on the classrooms making and selling slime, which is sold in plastic containers for a dollar apiece.
The slime, candles, flower pots, bath bombs and sugar scrubs will soon be available via websites designed and created by students. Funds that are generated from sales will go back into the businesses. Whatever is left over will go to the school, and a certain percentage will be donated to charity.
Students spend nearly an hour each day in the program, which incorporates the full scope of starting and running a business. They are getting experience with product development, accounting, marketing, advertising and sales. Mandalay Bay Resort and Casino has partnered with the school and is providing marketing and other business-related assistance to the young entrepreneurs.
"You see a different side of the students when you put them in a situation like this," said Casey Korder. "You see a lot of creativity coming out in them and you see a lot of collaboration and group work."
Beyond that, Casey Korder said the program aims to empower students and inspire them to become lifelong learners. "We teach them to be in control, take an idea and launch it, learn from their mistakes, and persevere."
Principal Chris Prosen had nothing but praise for the program. "It has given our students purpose. They have become more goal-oriented and focused. Their communication and social skills have blossomed as they interact with their customers and each other."
For more information about this program, visit EdCorps.com.