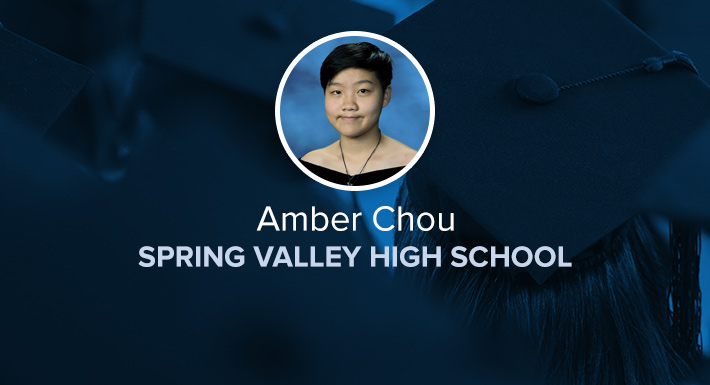 10 May

Star Graduates 2019 – Spring Valley

Congratulations to Amber Chou, Spring Valley High School's Star Graduate!

Amber Chou has earned straight A's throughout high school, making her a valedictorian candidate. She has four years of perfect attendance, and has chosen to take all of the most challenging courses the school offers, earning top scores on her many AP exams.

Amber is a talented performer and gifted artist. Her participation in both Speech and Debate and Model United Nations are particularly noteworthy, as Amber has distinguished herself in these programs, both as an award-winning orator and accomplished delegate. She also completed a stellar AP Studio Art portfolio last year.

Among her many accolades, our staff, students and parents named Amber our 2017-18 Student of the Year. Additionally, she is a 2018 Harvard Prize Book recipient, and was recently confirmed as our school's first National Merit Scholarship Finalist in over a decade.

Amber plans to pursue a career in the medical field, and will be attending Johns Hopkins University in the fall.

Amber's strong personal and moral character, outstanding academic success, involvement in school activities and respect for teachers and administrators were just a few of the reasons this remarkable young woman was selected as Spring Valley High School's Star Graduate.