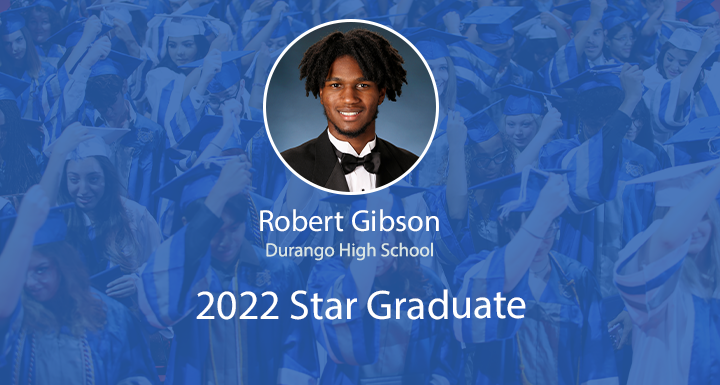 18 Apr
Durango High School is proud to recognize Robert Gibson V as Durango's Star Graduate. Robert is an exceptional student that is extremely motivated and passionate. Robert is a true Durango Trailblazer, with a great deal of school spirit, enthusiasm, and perseverance. Robert pushes himself daily to achieve his goals and has persevered through various personal adversities. Robert is an exemplary student that has taken a rigorous academic course load and is currently ranked in the top 5% of his graduating class. He has passionately played on Durango's Varsity Basketball team for four years where he currently leads as team captain. He is also a spectacular athlete on Durango's track and field team where he earned a spot on the Academic All-State team for the past two years. Robert has a tremendous amount of school spirit and is very involved in the Durango community.
Robert has shined on stage, starring in several theater productions. He is also an active member of Durango's video production program where he is consistently featured as an anchor for school-wide announcements. Robert holds the valued leadership position as President of National Honor Society where he demonstrates his strong leadership skills. Robert's talents and determination are truly remarkable. He is a role model in the classroom, champion on the court, and star on the stage. Robert is planning to attend a four-year university to pursue a college major in journalism. He has been accepted into several universities, including UNLV and UNR. It is with great pride that he represents Durango as our Star Graduate.
To view more Class of 2022 CCSD Star Grads, click here.