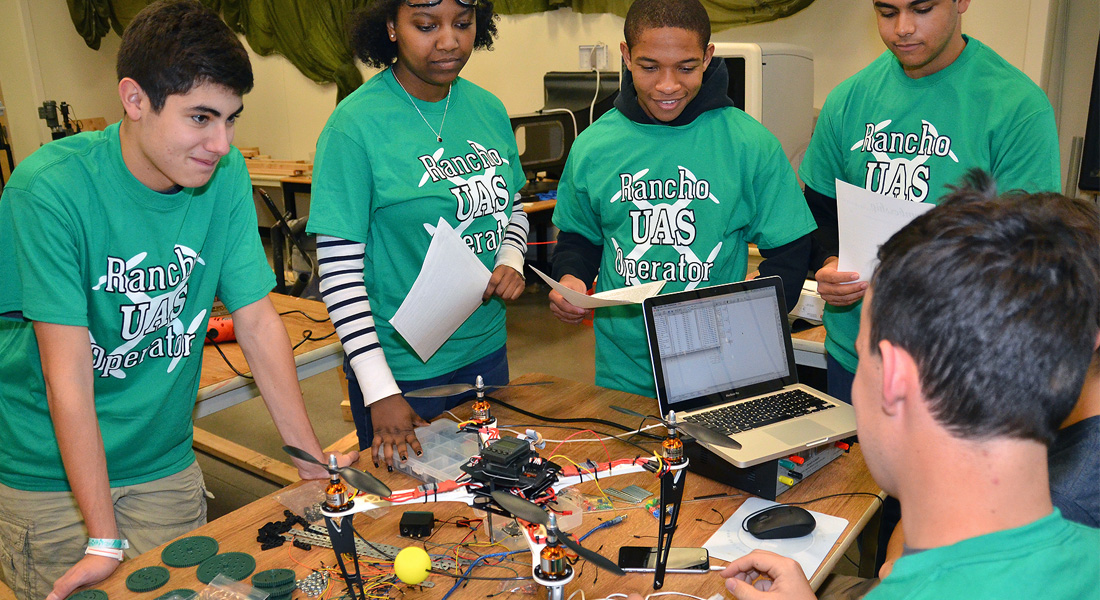 26 Jan

Schools soaring with drones

While advancements in technology can create great new learning tools and opportunities, we also have to adapt to liability and safety issues and concerns for schools.

When iPads were introduced in 2010, some saw them as great tools to increase learning. However, others were concerned about students accessing inappropriate material or how they would be utilized and stored. Clark County School District (CCSD) staff and trustees spent many hours crafting policies and procedures to address these issues.

Now, CCSD is currently moving forward studying and drafting guidelines for the use of drones, also known as unmanned aerial vehicles (UAVs) by schools and district personnel.

The advantages of using drones can come in a variety of forms. In 2013, Nevada was chosen by the FAA as one of six authorized test sites for the commercial development of UAVs, so there will be growth in the development and use of this technology.

In addition to students learning vital skills for future careers, there is also the potential for practical applications by departments according to Kim Krumland from the district's Risk Management office.

In a large district like CCSD that includes nearly two dozen schools located outside the Las Vegas Valley in places like Indian Springs, Laughlin and Mesquite, the ability for the Maintenance Department to inspect roof tops or hard to access areas from a remote location via a drone could be a useful tool. However, liability concerns always need to be addressed with how and when they are used.

The FAA has already addressed several issues that impact schools. Drones are not allowed over stadiums, so they cannot legally be used at sporting events where they may go into a crowd and cause injury.

When the district began looking at developing guidelines and protocols for UAV usage, one of the resources Krumland contacted was Gary Archambeault, who is a teacher at Rancho High School (RHS) and department chair of aviation for Magnet Schools. RHS has the district's only aviation program that has been in place for 18 years. There are 400 students in the aviation program at the school and three years ago, drones were added to the programs of study. Students learn about all aspects of them from assembling and disassembly to programming them and eventually flying them as their skill level progresses.

However, the responsibility of using the drones as an educational tool comes with an emphasis on safety and training.

"Students learn about the design, history and operation first, and then they build one and develop programming for it before they fly." The training that is required would be parallel to someone driving a car according to Archambeault.

"It would not be responsible to put someone behind the wheel of a car without first having proper training, so we take the same approach in operating a remote-controlled plane," said Archambeault.

The RHS teacher also said the school is a member of the Academy of Model Aeronautics, which also provides them with their insurance coverage.

The development of protocols for the district's use of drones has been interesting for Archambeault as it reminded him of a parallel to the 1990s.

"About 20 years ago, we saw the emergence of cell phones," said Archambeault. "Although the first ones were the big bricks, it did create the need for the district to create new regulations and guidelines on how they would be used in schools."

So like cell phones and iPads, the district is working to address emerging technology in its curriculum and for its practical applications.

Anyone who has questions about the potential use of a drone on their school campus can contact the Risk Management Office at 702-799-6496.