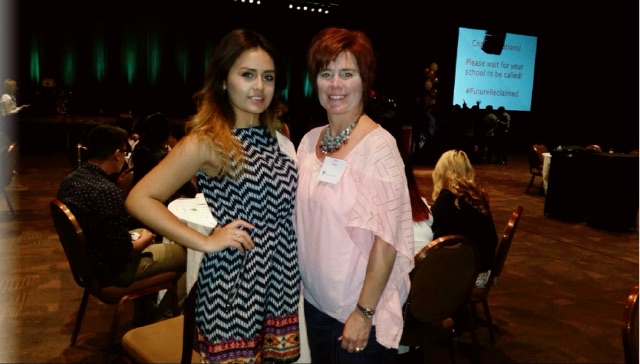 29 Feb

Community members help students reclaim their future

As she watched the news, Clark County Judge Diana Sullivan came across a story that caught her attention. It featured volunteers knocking on high school students' doors as part of the Clark County School District's "Reclaim Your Future," encouraging them to come back to school and get their diploma.

It's been five years since she first saw the news story, and Sullivan still believes that she is the perfect fit for the program.

Started in 2010, Reclaim Your Future is a program through CCSD's School-Community Partnership Program that asks community and business volunteers to commit one hour a week as mentors to high school seniors who are at risk of dropping out of school. These mentors become role models to mentees, offering the guidance and support they need to ensure that they get back on track and graduate.

The door-to-door effort is a part of the program's annual event where volunteers target students who have been identified as non-returning, and encourage them to take the steps necessary to get back in the classroom. Students who return to school will have specialized plans in place for them and are provided with opportunities to take extra tutoring, "boot camps," mentoring and credit retrieval programs.

Sullivan understands the value of mentorship for high school students. She graduated from Western High School in 1985, and no such program existed for students. Now, three decades later, she finds joy in giving back to her alma mater.

Struggling to pass her science proficiency exam, former Western High School graduate Yaredy Angel was connected with Sullivan during the 2014-15 school year through Reclaim Your Future. When she joined the program, Angel expressed interest in pursuing a career in law enforcement, so program coordinators encouraged Angel to meet Judge Sullivan, who could provide her with insight on the industry.

Like all Reclaim Your Future mentors do, Sullivan offered friendship and guidance, while instilling the social skills needed in the workplace. She made sure Angel was prepared for life after high school, helping with her with the college application process and applying for the FAFSA and scholarships—something Angel and her family had trouble with.

"She reminded me to stay focused on my goals and to not get distracted by anything that could interfere with me graduating," says Angel. "I never gave up. I passed my proficiency exam and made it to college because I had a mentor like her who I trusted and was always there for me."

Upon graduating, Angel was accepted to Southern Utah University, where she spent the first semester at the school on scholarship. She came back to Las Vegas in 2016 and now attends the College of Southern Nevada. Angel continues to aspire to have a career in law enforcement, and was recently accepted in the Las Vegas Metropolitan Police Department's Explorers Program.

For mentors like Sullivan, it's the end result that makes her time as a volunteer worthwhile—regardless of her busy schedule. "It's very rewarding to see mentees flourish and graduate after high school," she says. "Anyone can be a mentor. Reclaim Your Future only requires one hour a week of volunteer time, but the assistance it can give to students is so worth it."

Angel says that while having mentors is important, what mentors show them is that success is ultimately up to the student. "As a mentee, you have to make the effort to want to get the help you need to succeed in school. Students need to be motivated, have an open mind, and be willing to do extra, like staying after school to meet with their mentors. If not, then mentors won't be able to provide the help they need."

The program continues to serve more than 80 students by assigning mentors to multiple mentees. The Reclaim Your Future Program encourages community members 25 years of age or older to apply to be a mentor and make a commitment to help high school students achieve.

The program works around mentors' schedules, and support workshops and events are also offered to them if needed. Additionally, project specialists are matched with each school to provide the necessary support for the development of a successful mentoring relationship.

To learn more about the Reclaim Your Future program and to apply to be a mentor, contact CCSD's School-Community Partnership Program at 702-799-6560.