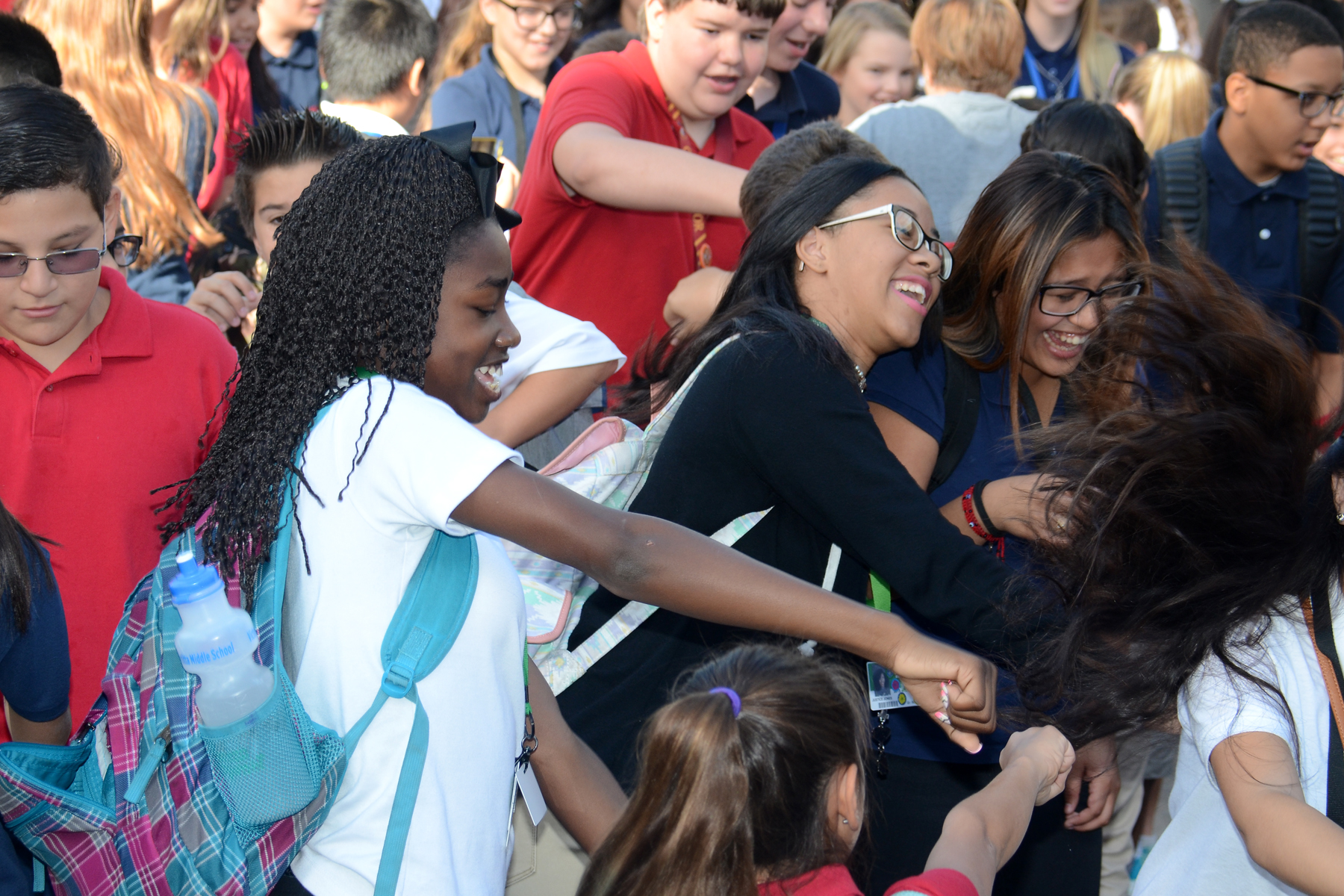 29 Sep

CCSD schools observe Week of Respect

The Clark County School District (CCSD) will go the distance in celebrating the Week of Respect, scheduled for Sept. 28 through Oct. 2 as proclaimed by Gov. Brian Sandoval. In his proclamation, the governor said, "Students, parents, educators, and community members all have an obligation to help in recognizing and combating bullying so that Nevada is known as a place where bullying will not be tolerated, and where the Nevada family lives in mutual respect."

As outlined in the superintendent's Pledge of Achievement, CCSD must ensure consistent implementation of anti-bullying programs and practices in all schools and work environments. The Week of Respect is the launching of a yearlong effort to enhance a safe and respectful learning environment. CCSD's theme is "Be an Upstander."

Numerous activities are planned at all CCSD schools during Week of Respect, including "meet a new friend" events, written affirmations, respect-oriented morning announcements, student-led roundtable discussions, "wall of respect" postings and much more. Week of Respect (#WeekOfRespect) culminates on Friday, Oct. 2, with the "Get Your Blue On" campaign, during which CCSD asks everyone to wear blue and tweet a photo using the hashtag #CCSDGetYourBlueOn.

Under NRS 388.122, bullying means written, verbal or electronic expressions or physical acts or gestures, or any combination thereof, that are directed at a person or group of persons, or a single severe and willful act or expression that is directed at a person or group of persons.

CCSD Policy 5137 states that the district "is committed to providing a safe, secure, and respectful learning environment for all students and employees at all district facilities, school buildings, in school buses, on school grounds, and at school-sponsored activities." In addition to ensuring the safety and well-being of students, the policy addresses bullying and cyberbullying so that there is no disruption to the learning process and learning environment. To view the policy, click here.

CCSD Equity and Diversity Assistant Director Brandon Moeller said CCSD employees receive comprehensive training on recognizing and addressing bullying and cyberbullying on school campuses. He said, "Any CCSD teacher, administrator, principal, coach or other staff member who becomes aware of a bullying or cyberbullying at any CCSD facility must report it right away to the principal or the principal's designee."

Moeller said employees now receive more training than ever on bullying and cyberbullying. The goal of the professional development is to provide participants with information about the causes and consequences of bullying behavior, while introducing strategies that will assist with enhancing a safe and respectful learning environment.

Moeller also reminds us that building positive relations and "Upstanders" does not end on Oct. 2; instead, it establishes the best practices for educators, parents and students to promote a safe and respectful learning environment year-round.

CCSD students and parents they can report bullying and/or obtain additional resources by visiting ccsd.net/bullying.