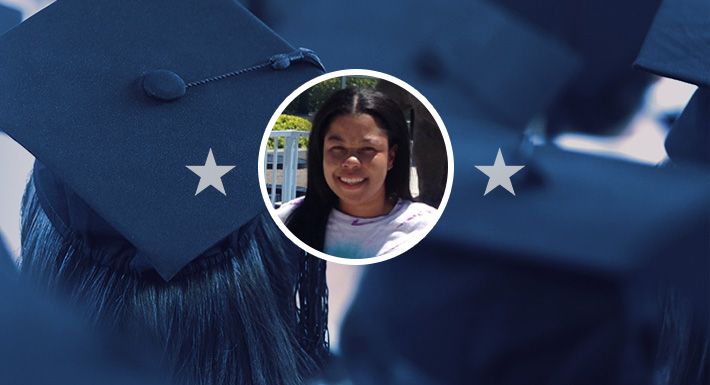 09 Jun

Star Graduate: Aja Hall of Centennial High School

Once again this year, CCSD is honoring "Star Graduates" who stand out for academic excellence or for overcoming the odds.

Aja Hall enrolled at Centennial High School her junior year. She was credit deficient in all academic areas after having given birth to her daughter during her sophomore year of high school. Aja said, "When I got pregnant at 15 years old, many people told me that I would be a dropout and not be able to accomplish anything, but they were wrong! On October 24, 2013, I gave birth to a beautiful healthy baby girl. I named her Trinity Brae'lynn. When Trinity came home, things were harder than I thought. It seemed that my daughter needed something every two seconds. Getting back into school was a struggle. In the beginning of the school year, I had to miss a lot of days of school because I was on the waiting list to get my daughter into a daycare, but I made sure I got my missing work finished. Now, I cannot wait to walk across that stage and see my daughter with a big smile cheering for me. She will be so proud of her mommy and I want her to know that I did it all for her." Aja has worked extremely hard the past two years. She is a very strong young woman who has been able to accomplish many obstacles in her young life. Congratulations to Star Graduate Aja Hall of Centennial High School!