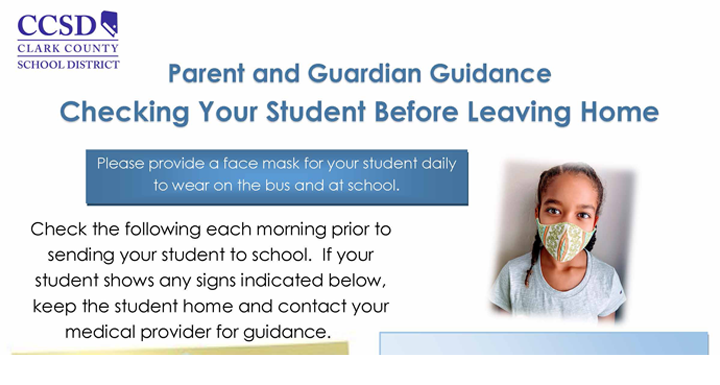 12 Sep

Updated Mask and Health Guidance for 2021-22 School Year

The District is committed to opening schools for all students as safely as possible for in-person learning for the 2021-2022 school year. As a result of the current high transmission rates of COVID-19 and in alignment with the recommendations from the Centers for Disease Control and Prevention, the  Southern Nevada Health District, and the Governor's Directive(s), students and staff will adhere to the following  guidelines: 

Face masks are required to be worn indoors, including all Clark County School District (CCSD) buildings, facilities, and on school buses by all individuals (ages two and older) regardless of vaccination status, unless an exemption has been approved due to a medical or a developmental condition that prohibits use.
If a student requires an exemption from wearing a face mask, an Individualized Education Program (IEP) or Section 504 Accommodation Plan team meeting must be held within a reasonable amount of time (five days but no more
than ten school days) to determine if the face mask exemption is appropriate.
Staff requiring an accommodation must contact the Office of Diversity and Affirmative Action/Americans with Disabilities Act (ADA)/Title IX Programs at (702) 799-5087.
Parent and Guardian Guidance Checking Your Student Before Leaving Home
---
El Distrito se compromete a abrir escuelas para todos los estudiantes de la manera más segura posible para el aprendizaje en persona durante el año escolar 2021-2022. Como resultado de las altas tasas de transmisión actuales de COVID-19 y en consonancia con las recomendaciones de los Centros para el Control y la Prevención de Enfermedades, el Distrito de Salud del Sur de Nevada y las Directivas del Gobernador, el personal se adherirá a las siguientes pautas:
Se requiere que todas las personas (a partir de dos años de edad) usen máscaras faciales en interiores, incluidos todos los edificios, instalaciones y autobuses escolares del Distrito Escolar del Condado de Clark (CCSD), independientemente del estado de vacunación, a menos que se haya aprobado una exención por motivos médicos. o una condición del desarrollo que prohíbe su uso.
Si un estudiante requiere una exención de usar una mascarilla, un Programa de educación individualizado (IEP) o equipo del plan de adaptación de la Sección 504 La reunión debe celebrarse dentro de un período de tiempo razonable (cinco días, pero no más de diez días escolares) para determinar si la exención de la mascarilla es apropiada.
El personal que requiera una adaptación debe comunicarse con la Oficina de Diversidad y Acción Afirmativa / Ley de Estadounidenses con Discapacidades (ADA) / Programas de Título IX al (702) 799-5087.
Aviso Para Padres y Tutores Revise su Estudiante Antes de Salir del Hogar