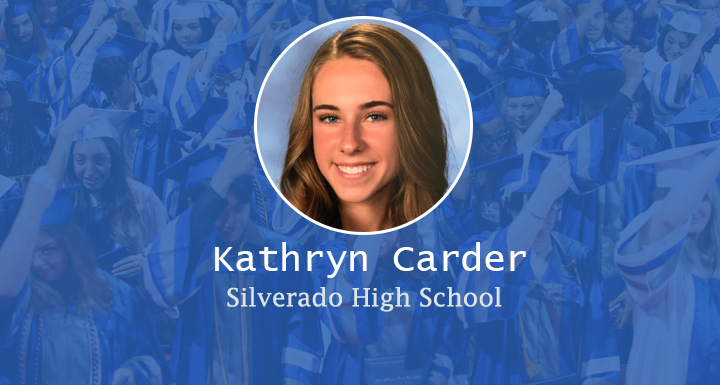 06 May

Star Graduates 2020 – Silverado

Kathryn (Katie) Carder has been recognized as Silverado High School's Star Graduate for the class of 2020. Katie is a well- rounded student athlete who excels in academics, sports, and artistry. She has been involved in honors and advanced placement classes throughout her education at Silverado and ranks 10th in her class with a GPA of 4.7.

Athletics have played a big part in Katie's time at Silverado as well. She has been a four year varsity letter winner, scholar athlete, and on the Nevada All- State Academic Team for both tennis and softball. Besides being an impressive student athlete, Katie has been involved in Student Council, 2020 Class Committee, and National Art Honor Society. Creatively working on photography, painting, and drawing, Katie has worked hard to pursue her passion of art and will continue this in college. She plans on playing softball during college as well. Katie has been accepted to Chapman University in Orange, California where she will major in Studio Art and Business and has also committed to playing softball for the Chapman Panthers. Her ability and diligence to balance so many different activities successfully coupled with her intellectual, artistic, and athletic genius will undoubtedly make Silverado proud to call her alumni.

To view more Class of 2020 CCSD Star Grads, click here.