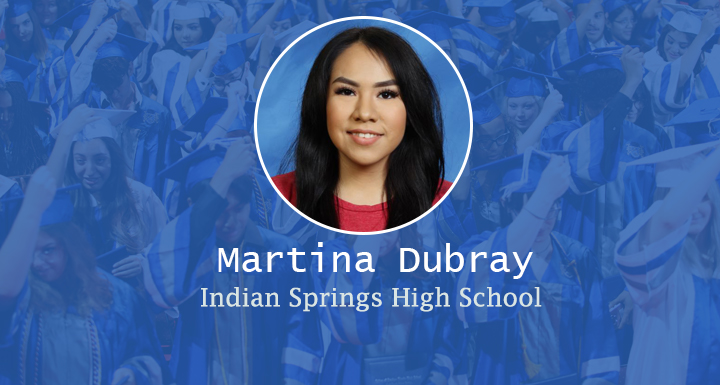 13 May

Star Graduates 2020 – Indian Springs

Martina DuBray will graduate from Indian Springs High School this spring as the ultimate Thunderbird. As a K-12 school, Indian Springs has had the honor of having Martina attend consecutively from kindergarten all the way through her high school graduation. But not only has she attended the entire time, she has excelled every step of the way.

Martina will graduate as the Class of 2020 Valedictorian with a GPA of 4.289. She has been the Student Body President for two consecutive years and served on the Student Council Executive Board for all four years of high school. This did not surprise anyone, however, as she finished middle school in Indian Springs being voted the Outstanding All-Around Student by her teachers. In addition to excelling in the classroom and being a leader on campus, she has also excelled in athletics. Martina was a four-year letterman in basketball and volleyball, having earned 1st Team All-Conference the last two seasons in basketball. She also lettered two years in track, two years in softball, and one year as a cheerleader.

Martina will be attending UNLV in the fall as she will be studying to be an Athletic Trainer.

To view more Class of 2020 CCSD Star Grads, click here.