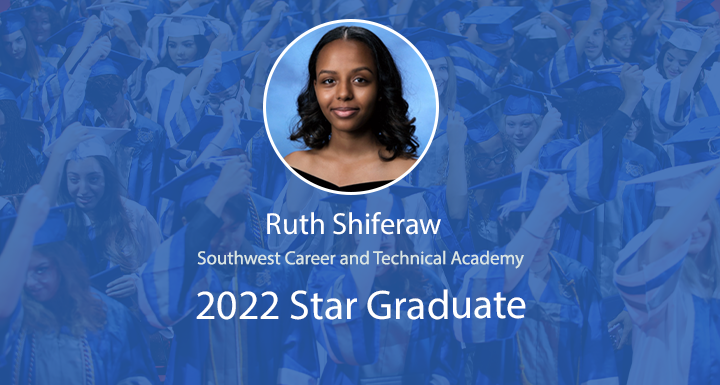 11 Apr
Southwest CTA is proud to honor Ruth Shiferaw as our 2022 STAR GRAD. Not only is Ruth an exemplary student, boasting 5.096 weighted GPA, but she is also a compassionate leader among her peers. During her time at SWCTA, Ruth participated in the Black Student Union (BSU) and Health Occupations Student Association (HOSA), where she is currently serving as the secretary. She was inducted into the SW Tech chapter of the National Honor Society (NHS) in her 10th-grade year and has devoted countless hours to bettering our valley through her community service. In her spare time, Ruth works a part-time job, loves reading and music. She is close with her family and is proud to say she is the first one to go to college.
Ruth wants to study dentistry but is still undecided on which college she will attend in the fall. The good news is she has many acceptances to choose from! Congratulations Ruth Shiferaw, SWCTA Class of 2022.
To view more Class of 2022 CCSD Star Grads, click here.