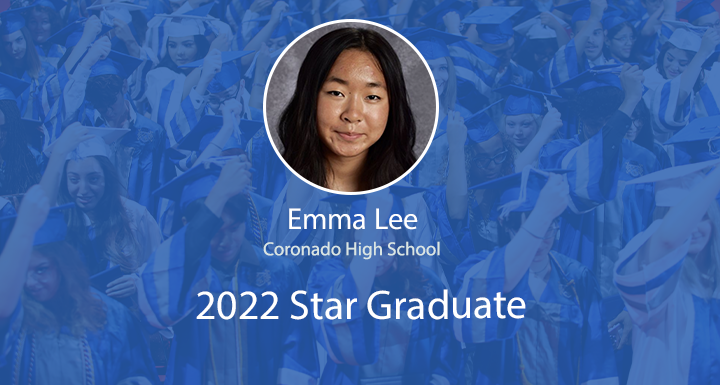 04 May

Star Graduate – Coronado

Emma Lee is Coronado High School's 2022 Salutatorian. She is on track to earn an Advanced Honors Diploma and Advanced Placement Academy recognition. Her academic resume is extensive and includes awards and recognition such as Advanced Placement Scholar with Distinction and Commended Scholar Award. Emma has also earned numerous awards and recognition in the DECA program, Nevada Chemistry Olympiad, and Speech and Debate. She serves as the DECA Vice President, Student Council Senior Class Secretary, and Acting Historian.

Emma is also an accomplished athlete, earning a varsity letter as a member of the Coronado Swim team, as well as the NIAA All-State Academic Athlete and Scholar-Athlete awards. She is active outside of school as a Trial by Peers Youth Volunteer, where she defends, represents, and advises juvenile offenders in court with the Clark County Law Foundation. Emma speaks four languages (English, Mandarin, Spanish, and French) and has started learning Arabic. She received an appointment to the United States Military Academy at West Point, and has also been accepted at UC Berkeley. Her goal is to work at a U. S. embassy.

To view more Class of 2022 CCSD Star Grads, click here.