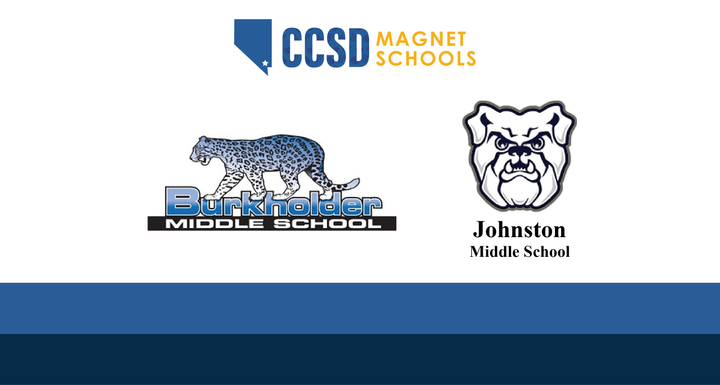 10 Oct

Magnet apps open, two new programs added

2024-25 CCSD Choice Applications for Magnet and Change of School Assignment now open

LAS VEGAS – The Clark County School District (CCSD) is now accepting applications for students interested in attending one of the District's many choice offerings including the award-winning Magnet Schools, new Johnston Middle School, Burkholder Middle School, Central Technical Training Academy and Change of School Assignment (COSA) options for the 2024-25 school year. The application window will remain open until January 9, 2024.

Magnet Schools

CCSD Magnet programs offer learning opportunities related to various themes. Students from across the District may apply to a Magnet program, however, transportation will only be provided to students living within the designated transportation boundary for the Magnet program. The purpose of Magnet programs are to improve student achievement, promote diversity, and create an awareness of career opportunities relative to the fields of study in which students may be interested.

CCSD has received a $15 million grant from the Magnet Schools Assistance Program (MSAP) to implement new Environmental Science, Technology, Engineering, and Math Magnet programs at Carroll M. Johnston Middle School and Lyal Burkholder Middle School.

The grant will allow each school to offer a rigorous, interdisciplinary, STEM-infused curriculum to students in grades 6-8, focusing on the environment, using experiential and project-based learning through its revolutionary STEMvironment Project.

"Having grown Magnet programs to 42 schools since 1994, it's a testament to the strength of our choice options to receive this $15 million grant from MSAP," said Superintendent Dr. Jesus F. Jara. "CCSD continues to lead the state in school choice options, and this award enables us to grow our STEM offerings to more middle schools so our students and their families can choose the future they want and pursue their dreams with us in CCSD."

Central Technical Training Academy, opened during the 2022-2023 school year, is a non-traditional high school focusing on career pathway training through career and technical education (CTE) coursework, credentialing, and work-based learning opportunities. Students may explore programs in Construction Technology and Advanced Manufacturing. Both programs will include opportunities for students to earn industry-recognized credentials and to participate in work-based learning through internships or other work experience.

Any student currently residing or planning to reside in Clark County may submit an application to attend a Magnet School of their choice. A lottery will be conducted for any program when there are more qualifying students than available seats.

Information regarding application criteria is available online at magnet.ccsd.net.

Change of School Assignment

CCSD uses the official residence of a parent/guardian to establish the school to which a student is assigned. As outlined in Regulation 5112, the COSA process provides an equitable way for parents to request a school assignment outside the established zone.

The list of schools with seats available can be accessed by clicking here. If a school does not appear on the list, the school has been determined to be over capacity and does not have seats available for the COSA process. Additionally, CCSD Magnet Schools are not eligible for COSA and have a separate application process.

For more information on the COSA process, visit itsyourchoice.ccsd.net/change-of-school-assignment/.