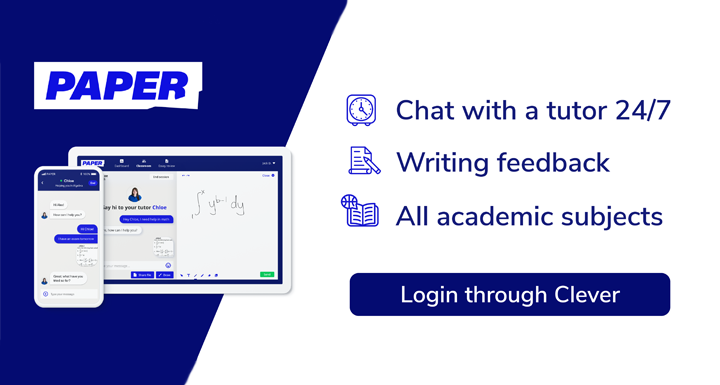 20 May

CCSD provides students 24/7 tutoring services with "Paper"

The Clark County School District is excited to provide all students with access to tutoring services through "Paper."

Students can access the tutoring service when not in the classroom by using their online Clever account.

On Paper's secure chat-based platform, tutors work individually with students to help them master concepts, improve their writing, and facilitate the completion of their coursework. Teachers and administrators can access the platform to view tutoring session transcripts, insights, and analytics that help power data-driven instruction and decision-making to improve student outcomes.

Paper offers on-demand tutoring and academic support tutoring services 24 hours/ 7 days a week. The partnership will provide free and equitable access to academic support for CCSD students of all socioeconomic backgrounds. CCSD is funding the Paper partnership using Elementary and Secondary School Emergency Relief funds (ESSER), making the service free to all K-12 students and families. The new districtwide rollout this year follows a successful test pilot of Paper at 11 CCSD schools during the previous school year.

To learn more, visit paper.co or sign into your student's Clever account.

About Paper:

Paper provides 1:1 virtual tutoring at no cost to students and their families. Students can get help in any subject or feedback on their written work from highly qualified educators through Paper's secure online classroom, which is available via any device. Paper's instructional framework emphasizes inquiry-based learning that empowers students to pursue lifelong learning and prepare for college and career success. Paper's multilingual tutors provide support in English, Spanish, French, and Mandarin.