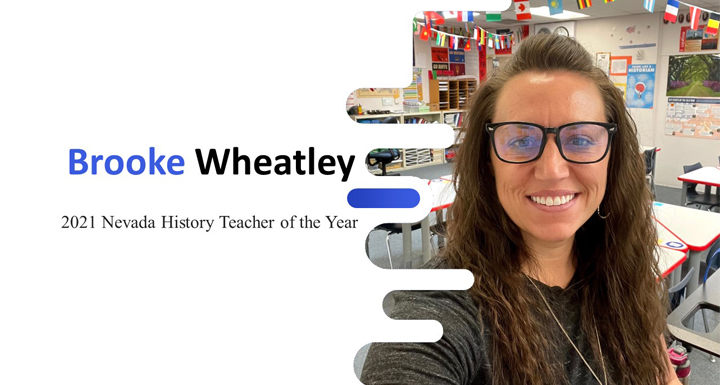 26 Aug

2021 Nevada History Teacher of the Year

The Nevada Department of Education (NDE) celebrates Brooke Wheatley, a teacher at Valley High School in Clark County School District, who has been named the 2021 Nevada History Teacher of the Year. History Teacher of the Year is an award presented annually by the Gilder Lehrman Institute of American History, the nation's leading organization dedicated to K-12 American history education.

"Ms. Wheatley is an exemplary Nevada social studies educator, and I am thrilled to see her talents and efforts recognized on a national stage," said Jhone Ebert, State Superintendent of Public Instruction. "Her passion for history is contagious and I am grateful that past, current, and future cohorts of students have had the opportunity to learn from her and leave the classroom as engaged and informed citizens."

In 2021, parents, students, teachers, and administrators nationwide nominated a record 8,510 teachers for the History Teacher of the Year Award. Amidst a very competitive field, Ms. Wheatley rose to the top in Nevada.

Wheatley received her bachelor's degree in 2003 from Warner Pacific College in business administration and social science and earned her National Board Certification in Social Studies in December 2020. She creates a classroom atmosphere in which history is directly connected to students' lives through lessons including simulations of World War II scenarios, analyzing community-based issues, and facilitating civil discourse among her students.

Inaugurated in 2004, the History Teacher of the Year Award highlights the crucial importance of history education by honoring exceptional American history teachers from elementary school through high school. The award honors one K-12 teacher from each state, the District of Columbia, Department of Defense schools and US Territories. In fall 2021, the National History Teacher of the Year will be selected from the pool of state winners.

In addition to a $1,000 honorarium provided to Ms. Wheatley, her school will receive a core archive of American history books and Gilder Lehrman educational materials.

The 10 finalists for the National History Teacher of the Year Award will be announced on Thursday, September 9, with the national winner announced later that month. An in-person ceremony for the winner will be held in late fall 2021, health and safety protocols permitting.

Nominations for the 2022 History Teacher of the Year are now open. Students, parents, colleagues, and supervisors may nominate K-12 teachers for the award by visiting this webpage. The deadline for 2022 nominations is March 31, 2022.