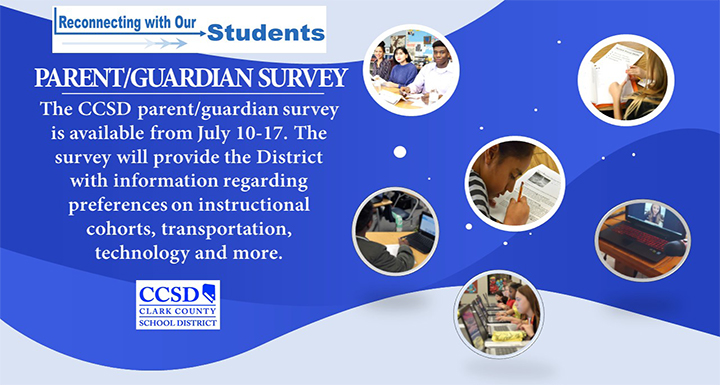 02 Jul

Take The Parent/Guardian Preference Survey Here

*Sorry for the inconvenience, the survey is experiencing high volume. If the survey fails to load please try again later this evening or before July 17.

On July 9, the Board of School Trustees voted unanimously to provisionally approve the proposed plan to reopen our schools for submission to the Nevada Department of Education.

In order to help us prepare for the new school year, we are asking parents to participate in an important survey by clicking *here. The survey will also be accessible on the CCSD website until 5 p.m. next Friday, July 17.

I will continue communicating with you and keeping you informed as we move through this process to reopen our schools this fall.

Your child's principal is currently planning for the upcoming school year and needs to know important information to best serve your family such as preferred instructional cohort and technology and transportation needs for the 2020-2021 school year. This is only a preference. The below survey must be completed so that your child's school can plan for the upcoming school year. You will be asked to provide information for each child in your household.

Please continue to check ccsd.net for the most up to date information.

Questions can be submitted to engageCCSD@nv.ccsd.net.
---
Anoche, la Junta Directiva Escolar votó unánimemente para aprobar provisionalmente el plan propuesto para reabrir nuestras escuelas que se presentará al Departamento de Educación de Nevada.
Para ayudarnos a preparar la entrada al nuevo año escolar, estamos pidiéndole a los padres que participen en una importante encuesta al hacer clic aquí. La encuesta también estará disponible en la página web de CCSD hasta el próximo viernes, 17 de julio a las 5 de la tarde.
Continuaré comunicándome con ustedes y los mantendré informados al avanzar en este proceso de reabrir nuestras escuelas este otoño.
El director de su hijo actualmente está planificando para el próximo año escolar y necesita saber información importante para servir mejor a su familia, como cuál será el grupo (cohort) de instrucción preferida, y las necesidades de tecnología y transporte para el año escolar 2020-2021. Esta es solo una preferencia. La encuesta a continuación debe completarse para que la escuela de su hijo pueda planificar el próximo año escolar. Se le pedirá que proporcione información para cada niño en su hogar.
Superintendente Dr. Jesús F. Jara