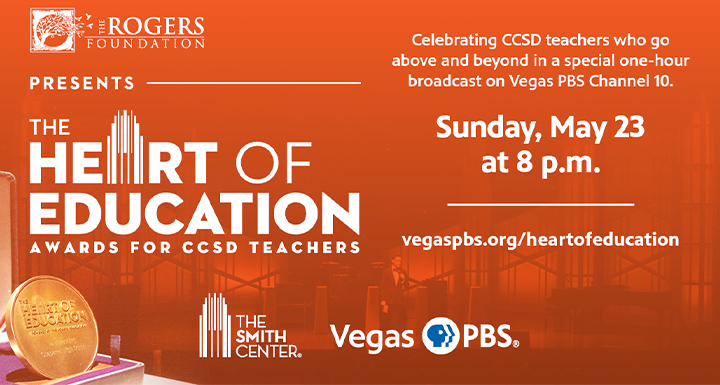 12 May

The 2021 Heart of Education Awards: Special Broadcast, May 23

Vegas PBS will air a special broadcast of the 2021 Heart of Education Awards made possible by The Rogers Foundation. With the traditional red-carpet ceremony at The Smith Center sidelined due to social distancing, the celebration will air on Sunday, May 23 at 8 p.m. on Vegas PBS Channel 10.1.

The show celebrates the hundreds of award finalists and 20 Heart of Education Award recipients who made a positive impact during one of the most challenging school years. Rallying in unprecedented ways, these educators adapted to virtual classrooms and found creative ways to support and encourage students from a distance. Viewers will hear from those who nominated these outstanding teachers as well as the award recipients themselves. Each winning educator will receive a $5,000 cash gift as well as $1,000 donation to their school.