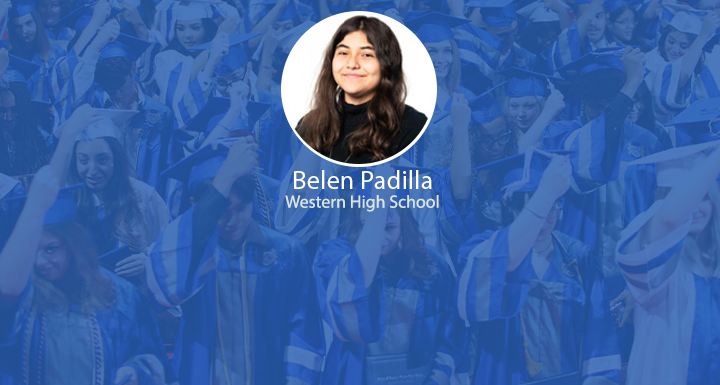 30 Apr

Star Graduates 2021 – Western

It is with great pleasure that Western High School recognizes Belen Padilla for Star Grad. Throughout her high school career, Belen has exhibited exemplary leadership in her community work while pursuing excellence in her academics. She co-founded One Step Equity to tackle the pandemic for communities most adversely impacted. She was one of the thirty national 2019 HERlead Fellows for her proposal of a nonprofit community program that helps combat the mental illness stigma within the Latino community. Her program initiative included providing material donations to shelters and institutions for low-income and homeless youth and families who struggle with mental health in Las Vegas. She provides inspiration for motivating and elevating her peers. While serving as the President of the Biology Club in 10th grade, she nurtured and spurred on such students with exposure towards the field of STEM careers. At UNLV GAME Lab, she exposes herself to research about how microaggressions affect the mental health of underrepresented minorities. Belen's work in the community shows her character in a way that Western is most proud of; kind, generous, dedicated, incredibly intelligent. It has rounded her out to be an individual who not only cares strongly about others but that she will take action to improve the lives of others in her community. She maintains this chock full of committed projects while pursuing AP-level courses, even teaching herself AP Calculus. She perseveres against personal adversity with a relentless desire to achieve her high dreams. Belen is the recipient of the Horatio Alger Scholarship Award and was accepted to Scripps College, a top liberal arts institution. It will be immensely exciting to see what dreams she continues to accomplish in the future!

To view more Class of 2021 CCSD Star Grads, click here.