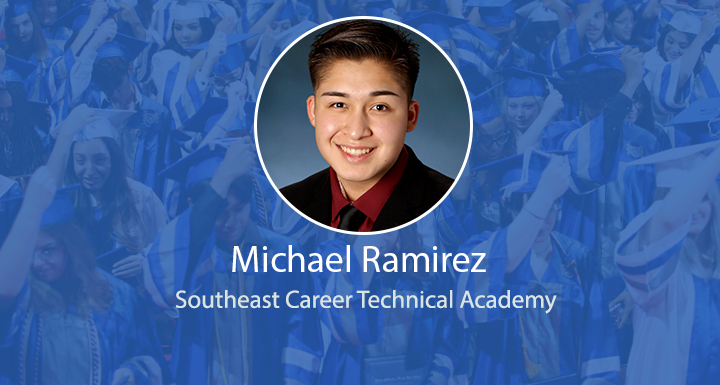 09 Apr

Star Graduates 2021 – Southeast CTA

Southeast Career Technical Academy is proud to name Michael Ramirez as our Star Student. There are many accomplishments Michael has attained in his four years at Tech which we are excited to share. He has maintained a challenging academic schedule where his grades have never slipped. Even with a year dealing with a pandemic, Michael's work ethic has continued to be evident. Most recently, he signed a contract with the United States Army, specifically Airborne and the Ranger Assessment and Selection program which gives him a chance at being invited into Special Operations. This has been a dream of Mr. Ramirez's since childhood when his father was deployed to Afghanistan in 2008. The commitment to service of country and hard work was instilled in Michael from an early age, and it has certainly paid off. Not only has Michael been dedicated to his studies and his dream of becoming a member of the military, he has also been an active volunteer in the community, offering 100 hours plus of his time at local hospitals. He also was involved with his Speech and Debate class, and continued to maintain his 3.5 GPA at school.

Despite tough times at home, Michael never let himself give up. Dark times fell upon his family and he found himself having to step up and help with the finances. Even having a part-time job did not distract him from his studies. In fact, this only shaped Michael into the young man he is today. It was with the encouragement of his parents, and his work ethic that he never lost sight of his future goals. And so, it is for these reasons that we, the administration and staff of Southeast Tech name Michael Ramirez as our Star Graduate of 2021.

To view more Class of 2021 CCSD Star Grads, click here.