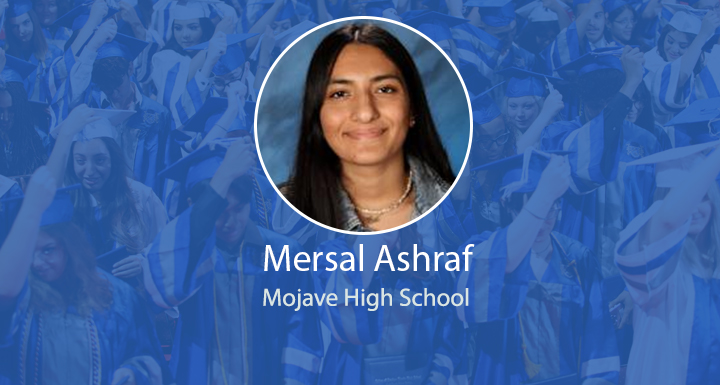 12 Apr

Star Graduates 2021 – Mojave

I have been given the honor of recommending an outstanding young lady Miss Mersal Ashraf for the Star Graduate at Mojave High School. Mersal is a student that has had many setbacks in her life, however; she has not let that deter her from doing what she has to do. She has never made excuses or used her situation as a crutch. In writing her recommendation I pondered with the thought of mentioning her family situation as she is a proud young lady that stands on her own and wants to achieve on her merits and not sympathy.

Academically, Mersal ranks at the top of her class with a 3.67/4.37 GPA. Mersal has earned this GPA while taking Honors and Advanced Placement (AP) courses throughout her high school career. If all Mersal did was come to school that would be easy for her to maintain her high GPA, however; Mersal is involved in several clubs on campus such as, DECA and FCCLA. While being a member of FCCLA Mersal has won two silver medals in completion. Mersal is also a member of Mojave High's competitive flag football team. Mersal also participates in community activities, she has volunteered at a women's clinic and Ronald McDonald House.

To view more Class of 2021 CCSD Star Grads, click here.