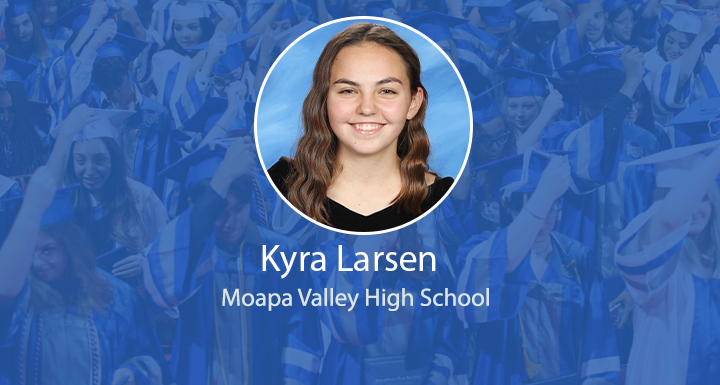 12 Apr

Star Graduates 2021 – Moapa Valley

Kyra Larsen is one of the most amazing people on earth. She has more energy than a supernova and a positive outlook that would convert Eeyore. Kyra was elected student body president of Moapa Valley High School and led the student body through the unusual and difficult 2020-2021 school year. She went above and beyond the normal responsibilities of a student body president and worked tirelessly with community members to create activities and opportunities for students in our rural community to have a semblance of normalcy in an abnormal situation. She did this while maintaining exceptional grades in high-level classes AND taking on additional responsibilities at home while her younger siblings were not able to attend school. Kyra does her best to make sure all students feel that they are part of the group and that they matter. She puts others before herself; she follows through with her commitments; she is a great example of living a good life. That's not to say her life is easy–it's not. She takes the disappointments and trials that life throws at her and makes the best of every situation–and that is one of the most important skills a person can learn in life.

To view more Class of 2021 CCSD Star Grads, click here.