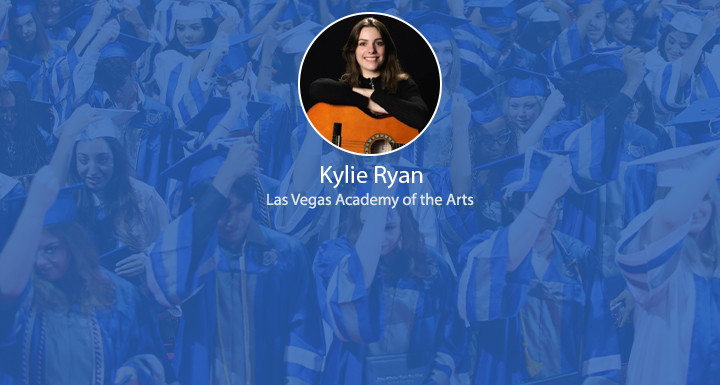 26 Apr

Star Graduates 2021 – LVA

Congratulations to Kylie Ryan, Las Vegas Academy of the Arts' Star Graduate! Kylie's hard work, dedication as a guitar major, achievements in academics, and kindness to others earned her this recognition.

Kylie faced personal hardships and loss as she entered LVA as a freshman. While struggling her first couple of years in high school, her strong determination led her to be the successful senior she is today. Her teachers shared that Kylie is the first to offer a kind word or hug to another student. She has faced challenges and obstacles in her early teen years, but if you met her, you would never know. She finds happiness in helping others.

With so much going on in her life, Kylie remained strong and driven academically. "A magnificent and creative writer," a talented guitarist, and a focus on academics demonstrate the determination of this young adult planning on attending UNLV this fall. The administration, faculty, and staff are proud to recognize the achievements of Kylie Ryan, Las Vegas Academy of the Arts' Star Graduate.

To view more Class of 2021 CCSD Star Grads, click here.