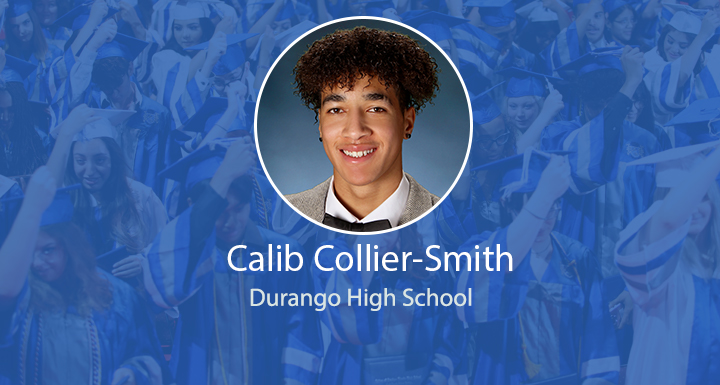 22 Apr

Star Graduates 2021 – Durango

Calib Collier-Smith is an exemplary student and person. He demonstrates great intellect, character, leadership, work ethic, self-advocacy, independent-thinking, and resilience. Calib moved to Las Vegas from Baltimore, Maryland, two and a half years ago. From the start, he expressed his aspirations to go to college, wanted to ensure he had all the right classes, and asked many questions about the grades and qualifications needed. He had a smooth transition to a new environment and approached the challenge with an incredibly positive attitude and disposition.

Calib has persevered through significant personal adversities and obstacles in life. It hasn't been an easy journey to get where he is today, and time and again he exhibits adaptability and a laser focus toward his ambitions. At a time when he could'e taken an easier route, he insisted on more rigor and has been earning straight A's. He will be graduating with the most prestigious accolades and has thus far been accepted to 12 universities, as well as earning multiple scholarships. Calib's conscientiousness and fortitude are unmatched. He is an exceptional young man and reflective of everything we expect a Durango graduate to be. It is with great pride that he represents Durango High School as our Star Graduate.

To view more Class of 2021 CCSD Star Grads, click here.