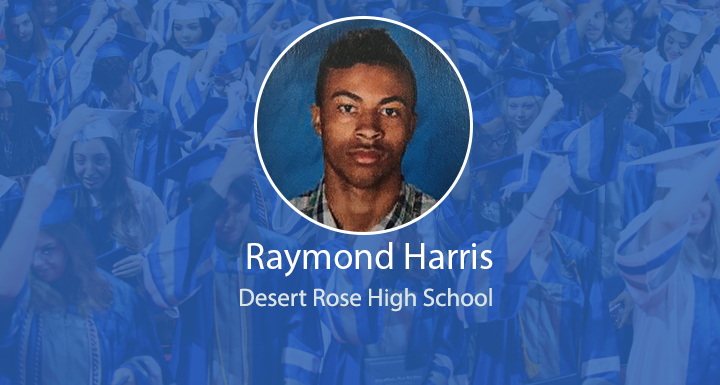 20 Apr

Star Graduates 2021 – Desert Rose

I worked with Raymond as he tirelessly worked on U.S. Government and U.S. History this year. His great attitude helped him achieve his final goal in education: to earn his high school diploma! Raymond showed up daily and stayed online for hours, without complaint, to finish the work required to complete his high school career. While on campus, Raymond was an enormous help to our librarian, Mr. Chaput. He became his "right-hand man" so to speak. We could trust Raymond to run errands on campus, help teachers organize their classrooms or complete any task that was assigned to him. COVID-19 and the pandemic put a stop to our on-campus learning and Raymond became an online scholar! Online learning had its challenges in the beginning. Raymond did not give up. He contacted us daily to get online and help him with his U.S. Government class. He knew he was close to graduating and was an excellent advocate for himself.

Raymond expressed interest in returning to Desert Rose as a volunteer. He would love to help other students achieve their dream of earning their high school diploma. Raymond was an excellent student and an even better friend to those attending Desert Rose. Raymond Harris showed that with a positive attitude and with the attitude of never giving up that you can do anything. He showed up to school almost every day and made his friends and staff feel good with his positive energy. By staying on his steady course Raymond earned his diploma and now will move on to bigger and better things! We will miss that infectious smile of his in the halls of Desert Rose but cannot wait to see where his future path will take him.

To view more Class of 2021 CCSD Star Grads, click here.