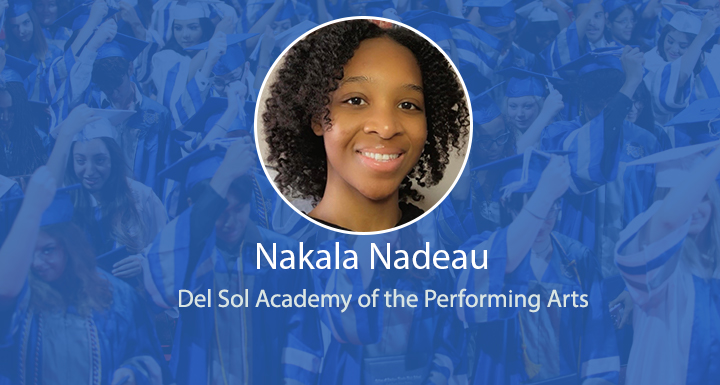 16 Apr

Star Graduates 2021 – Del Sol

Del Sol Academy of the Performing Arts is proud to have Nakala Nadeau as our 2021 Star Graduate! Nakala excels in her academics, twice receiving the Presidential Award for merit and perfect attendance, and she is ranked in the top 3% of her class. Nakala accomplished this while taking three city buses to school daily. Her dedication also transfers to her community, where she volunteers with the non-profit organization called Broadway in the HOOD. During her five years at Broadway in the HOOD, Nakala has become a mentor to young children who look up to her as a positive role model, and she received the Outstanding Relationship Award for her work with them.

Nakala also exemplifies leadership. As a captain of her track team, she emphasized the importance of academics to her teammates. Nakala has developed an avid interest in the human body and helping others heal, which was inspired by her sister who was diagnosed with brain cancer. Her sister's visits to physical therapy were a time of fun and hope, and Nakala would like to work with adults as a physical therapist or trainer. Nakala is an intelligent, resilient, and hardworking student who we are so proud to have as our 2021 Star Graduate.

To view more Class of 2021 CCSD Star Grads, click here.