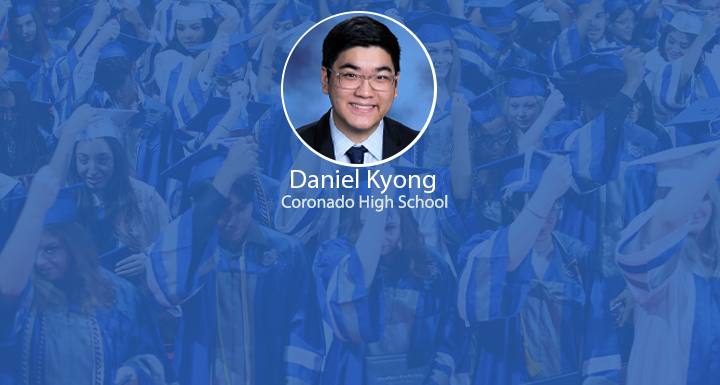 29 Apr

Star Graduates 2021 – Coronado

It is with great pleasure and honor that Coronado High School's nomination for Star Grad is Daniel Kyong. His rigorous academic course of study, over the past four years, includes 21 Advanced Placement classes. Daniel's unweighted GPA is 4.0 and his weighted GPA is 6.125. He will graduate with the "Advanced Honors" diploma and with the Advanced Placement Academy Distinction, the highest diploma at Coronado High School.

Daniel is very ambitious, curious, passionate and humble. His volunteer experience and extracurricular activities include President of Future Medical Professionals, Co-Founder/President of Medical Aide Association, Director of One Change: Treat and Aid, Co-Founder of the D.O.M.E. Initiative, Outreach Volunteer: Portraits of Hope, Pro-Bono Private Lessons Teacher (violin), Volunteer Musician at St. Rose Hospital and Horizon Ridge Nursing Home, Nevada All State Command Upper-String Soloist, Music Teachers National Association State Winner and AP Capstone Coalition. Some of Daniel's achievements/awards have been Valedictorian, AP Scholar with Distinction, All-State Command Upper-String Soloist, Las Vegas Young Artists Orchestra Concerto Competition Winner, Daniel Pearl World Music Days Soloist, Music Teachers National Association Junior Division Winner, First Prize: Young Artists Competition, Grand Prize Winner of Roger Bushell Scholarship Competition, Silver State Competition of Las Vegas Music Teachers Association and AP Capstone Diploma.

Daniel is most proud of landing a position at Dr. Prytkova's laboratory doing research. He also enjoys working with the kids of his Pro-Bono Violin Academy sharing his love of music and working with the homeless population of Las Vegas through the One Change: Treat & Aid and the D.O.M.E Initiative. Daniel truly is going to make a remarkable difference in our healthcare system pursuing a MD/MPH degree.

To view more Class of 2021 CCSD Star Grads, click here.