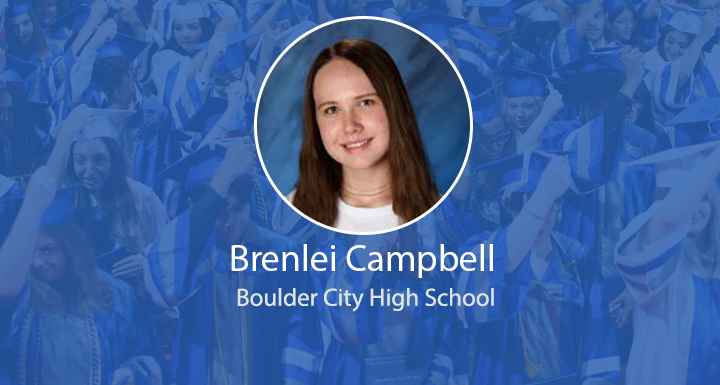 20 Apr

Star Graduates 2021 – Boulder City

Brenlei Campbell is the Star Graduate at Boulder City High School. Brenlei has many exceptional qualities that have helped her overcome obstacles throughout high school. We are impressed with her achievements, positive attitude and persistence.

Brenlei has been a student at Boulder City High School throughout all 4 years of high school and has experienced challenges along the way. She had to learn many life skills independently such as being a self-advocate, getting a job, financial aid and accessing post-secondary options. As a strong self-advocator, she asks the right questions and follows through until she gets the information that she needs. It is amazing how she can navigate through resources to find answers and assistance. Her determination for locating information is impeccable.

During this challenging time of distance education, Brenlei continues to get excellent grades in school, works many hours per week and is in the process of applying to colleges to meet her future goals. She is in the process of completing another semester of a Dual Credit course this year and has already earned some college credit! Brenlei is an exemplary role model for all students and has a very bright future ahead.

To view more Class of 2021 CCSD Star Grads, click here.