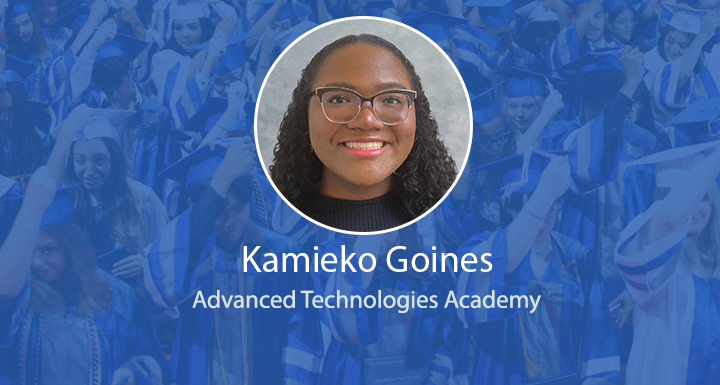 06 Apr

Star Graduates 2021 – A-TECH

Kamieko Goines is academically driven, inquisitive, outgoing, and active in diverse interests. For example, as a current Nevada Youth Legislature, Kamieko conducted town hall meetings and proposed a bill to reduce polystyrene in schools. Teachers and students alike enjoy her passionate and giving personality. Kamieko is an AP Scholar with Distinction and currently has a 4.8 GPA. As a top student in the Legal Studies program at A-TECH, Kamieko loves the challenge and growth AP and Honors level classes offer her. Kamieko has taken 10 AP courses including AP Calculus and AP Psychology.

She is active in several campus organizations including Student Council, NHS, and Key Club. After school, Kamieko volunteers at Spread the Word Nevada where she helps to promote literacy in children. She is also a talented musician and plays the ukulele, piano, trumpet, and alto saxophone, and loves to sing. She plans to study Environmental Studies or Communications in college. She has already been accepted into UNLV, UC Irvine, and UW Seattle. Kamieko is a driven, ambitious, independent, self-disciplined person who will undoubtedly go on to do great things.

To view more Class of 2021 CCSD Star Grads, click here.