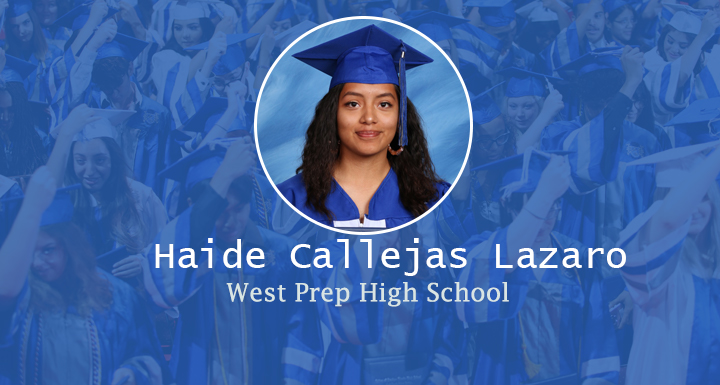 08 May

Star Graduates 2020 – West Prep

Haide Callejas Lazaro has been an exemplary student of the West Prep High School community. Due to her persistent focus on academic goals and perseverance through challenging circumstances, Haide is the imminent West Prep High School valedictorian for the Class of 2020. She has made her father Juan Callejas-Isidro, her mother Azuzena Lazaro-Lazano, and her siblings Ariana and Aldair proud of her outstanding achievements in consistently earning high grades in AP and accelerated courses and of her compassion for classmates who seek her guidance.

Haide shines as a leader in cooperative learning tasks, the president of West Prep's chapter of the National Honor Society, and a member of Interact club. She has also amplified the value of Latino culture as a player in Mariachi ensembles and contributed to the Las Vegas community with organizations such as Opportunity Village, Springs Preserve, and Gobble Gobble Give. With firm beliefs in protecting animals and restoring ecological balance, Haide plans on attending UNLV to pursue a career as a wildlife rehabilitator. West Prep High School has been blessed with Haide's leadership and emblematic dedication to her studies, and we look forward to watching her realize her full potential in the world beyond our classrooms.

To view more Class of 2020 CCSD Star Grads, click here.