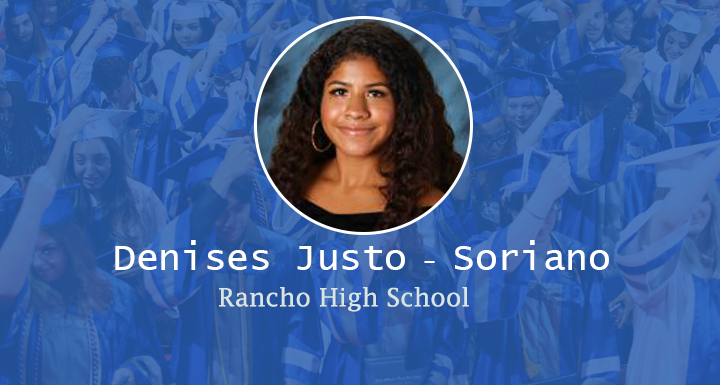 14 May

Star Graduates 2020 – Rancho

First-generation college-bound Latina Denises Justo-Soriano will graduate from Rancho High School near the top of her class. She credits her accomplishments to hard work, dedication, and an encouraging family. Denises embodies Rancho's philosophy of taking advantage of opportunities and experiences. She's done this throughout her academic career, enrolling at two of the district's nationally certified magnet programs, first at Cashman Middle School and then at Rancho High School. Denises has participated in flag football all four years, serving as team captain for two. She is a member of the National Honor Society, Hispanic Student Union, and Magnet Ambassadors, and she has consistently maintained one of the highest GPAs in her class. Outside of Rancho, Denises has been a part of the local non-profit organization Leaders in Training, which seeks to address the educational inequities facing students of color. Denises was named a Questbridge Scholar and will be receiving a full-ride scholarship to Grinnell College in Grinnell, Iowa, where she will continue her studies in pursuit of a career in medicine. Rancho High School is proud to name Denises Justo-Soriano a Star Grad of the Class of 2020.

To view more Class of 2020 CCSD Star Grads, click here.