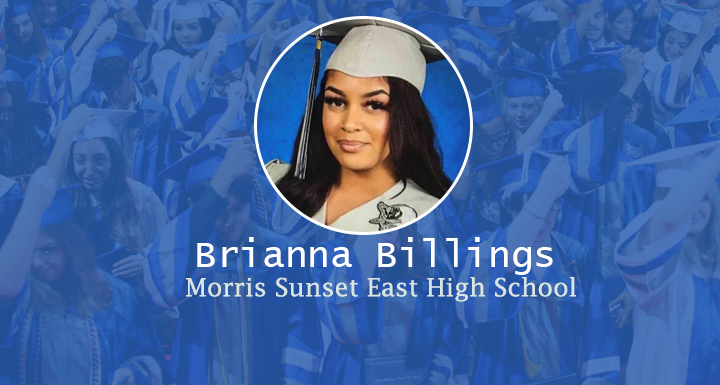 22 May

Star Graduates 2020 – Morris Sunset East

Morris Sunset East H.S. is proud to have Brianna Billings as their 2020 Star Graduate. Brianna has overcome several obstacles throughout her life. Growing up she lived with her mother, who was undocumented, this proved to be extremely difficult for her and her younger brother. Moving from hotel to hotel every other month became an unbearable struggle for her mother. So, the family moved to Mexico to live with relatives. While in Mexico, Brianna missed several months of school before her older brother offered to move her and her brother to Las Vegas with him. She was happy to be in Las Vegas, but the move was short-lived. Brianna and her brother had to move back to Mexico. Upon her return to Mexico, she had to care for her ailing mother who suffered from two strokes, along with battling an addiction to alcohol. Brianna and her younger brother were able to move back to Las Vegas when a good friend of the family offered to take over as their guardian. Due to moving around and missing months of school, Brianna was off-track to graduate. However, since enrolling at Morris as a full-time student during the Fall of 2019, Brianna has recovered all of her missing credits and will graduate on-time with the Class of 2020. As a student at Morris, Brianna is a leader on campus. She is a key member in the B.I.O.N.I.C. Team and a phenomenal student who always has a smile on her face. Brianna will start classes at UNLV this Fall. She will begin taking classes to start on her career path in the Health Industry, with a goal of becoming a Nurse. She is ever so grateful to her teachers and the staff at Morris Sunset because of their guidance, support and the overall caring environment on campus that has made this year a success for her.

To view more Class of 2020 CCSD Star Grads, click here.