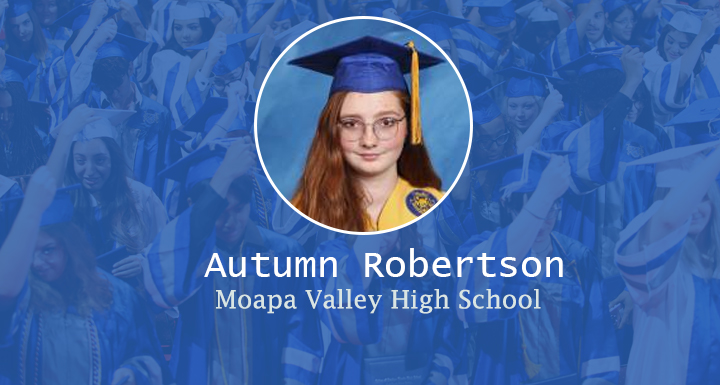 17 Apr

Star Graduates 2020 – Moapa Valley

Autumn Robertson has achieved an impressive weighted GPA of 4.275, but it is even more remarkable because Autumn was homeless her freshman year and missed that school year completely. She was taken into foster care and placed in Moapa Valley where she has really thrived. She worked very hard to catch up and excel academically. Not only that, she got involved in classroom and leadership activities. She works as a classroom aide/tutor for several teachers. Autumn is our current MVHS JAG Career Association President and this year's MVHS National Honor Society Blood Drive Coordinator. She has taken advantage of some great opportunities in our county and state as well, earning a summer internship with the Clark County Summer Business Institute with the University of Nevada, Reno. She was also selected to represent Moapa Valley at Camp Anytown, a leadership and diversity camp for the state of Nevada. She was also nominated and serves as a current Youth Ambassador to improve foster care in Nevada.

Autumn is the most service and socially aware student I have ever met. She thinks globally and cares deeply about doing things to benefit her community and the planet, and she takes action to make change in her own life. She also calls on and compels her peers to act. Autumn has been accepted to the University of Nevada, Reno and will pursue a degree  in Economics. She plans to pursue her graduate and doctoral degree in order to become a College Professor. She currently lives with her fictive kin, Shari and Bob Lyman from Moapa.

To view more Class of 2020 CCSD Star Grads, click here.