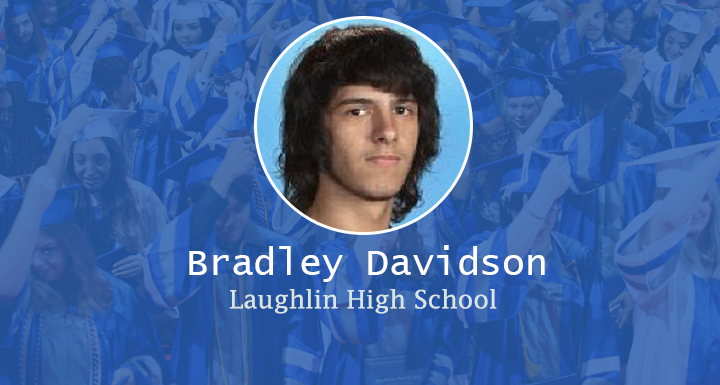 06 Apr

Star Graduates 2020 – Laughlin High School

Bradley Davidson has been enrolled in Laughlin schools since 2007 when he was a kindergarten student. He encountered enormous challenges throughout his school life and worked his way from self-contained classes to regular education classes by the time he became a senior. Bradley's caring nature, personality, and respect for others endured him to his peers and the staff.

He was a stand-out intern for the Vocational-Rehabilitation Program last summer and worked with our maintenance department during summer school. The staff was so impressed with his work that they requested he return again this summer and recommended him for full-time employment when he graduates.

Bradley is an insightful, sensitive student driven to explore life and become the best he can be. He has taken on the challenge of earning and saving money to purchase guitars in an effort to follow his dream of playing guitar professionally. Once Bradley was able to purchase his first guitar, he worked tirelessly to learn to play it. In one year, he went from not knowing how to play to being an accomplished musician.

Along with this drive to learn music, Bradley learned that working hard to reach goals pays off. He has made remarkable progress academically, socially, and behaviorally. He has completely transformed himself into a happy, productive individual. He is talented, caring, intuitive, dedicated, and focused in his pursuits. He is truly exceptional.

To view more Class of 2020 CCSD Star Grads, click here.