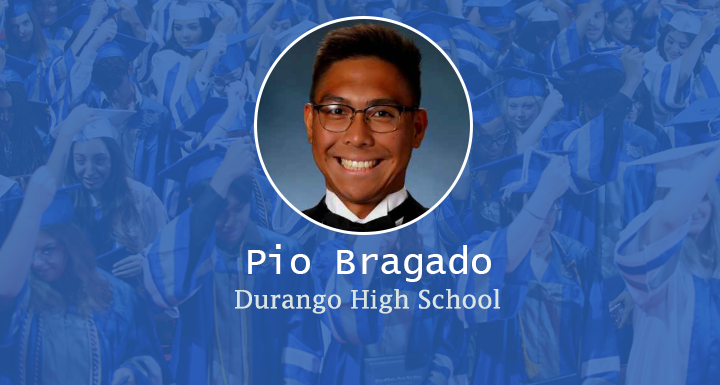 16 Apr

Star Graduates 2020 – Durango

Pio Bragado has spent his academic career not only succeeding academically, but also leading the Durango High School student body through exemplary leadership skills and an unparalleled positive attitude.

From the start of his high school career, Pio dedicated himself to excelling in the Durango High School Air Force Junior ROTC. Throughout his time as a student cadet he has been lauded by peers and superiors alike for his hard work, dedication, and the success of the unit as a whole. His natural leadership ability, coupled with fierce determination has led him to be selected, and serve as a First Sergeant, Corps Officer, Director of Operations, Captain/Commander of the Physical Fitness Team, and a member of the Armed Drill team.

Pio's determination can also be traced to his stellar academic record. His commitment to academic excellence has earned him straight A?s throughout his entire high school career. This feat is made more impressive by the rigorous academic course load Pio has always embarked on, including challenging classes such as AP Physics I, AP Calculus AB, AP Calculus BC, and AP Lit/Comp.

As a graduate of Durango High School he will not only graduate with a College and Career Diploma, but also as an AP Scholar. He will also reach the highest honor of Durango High School Valedictorian.

If Pio's academic achievement and extracurricular activities were not impressive enough, it is important to note that Pio has not accomplished all of his success without facing adversity. As a freshman, Pio suffered a great tragedy in the loss of his father. As a young adult, Pio, although devasted by this loss, faced this adversity with poise, strength, and resiliency. Even during the dark time in his life, Pio still managed to work hard and maintain his own high standards for achievement. Although Pio's dedication to success during such a difficult time is impressive to say the least, it is perhaps even more impressive that throughout this hardship, and the other challenges he has faced, Pio still exudes kindness and positivity. It is with this impressive academic background, dedication to extra-curricular activities, and superior personal qualities that Pio has applied for admissions to prestigious institutions such as the Naval Academy and the U.S. Air Force Academy.

To view more Class of 2020 CCSD Star Grads, click here.