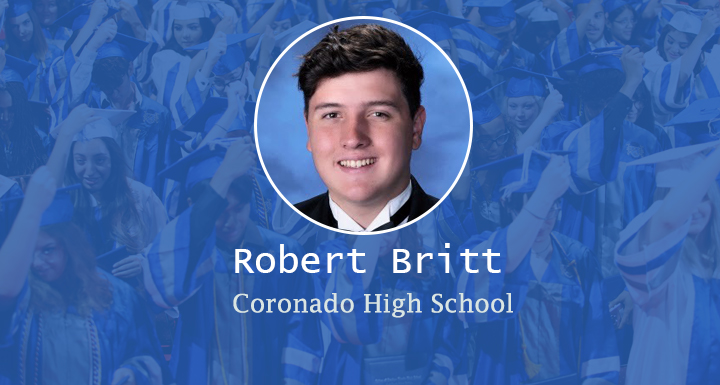 29 Apr

Star Graduates 2020 – Coronado

It is with great pleasure and honor that Coronado High School nominates Robert Britt for Star Grad. His rigorous academic course of study includes 16 Advanced Placement classes, 2 of which he took as independent study. Of the 10 Advanced Placement exams Robert has taken, he has scored a 5 on 9 of them and a 4 on the other. Robert's unweighted GPA is 4.0 and his weighted GPA is 4.8. He will graduate with the "Advanced Honors" diploma and AP Academy distinction, the highest diploma at Coronado High School.

Robert is a very ambitious, contentious, curious, passionate, intelligent, articulate, gentle and kind young individual. While at Coronado High School, Robert has been an active member of Dignity Health Hospital Volunteer, National Honor Society, Science Bowl, Science Olympia, AP Capstone Coalition and Science National Honor Society. His achievements/ awards have been Valedictorian, National Merit Finalist, National AP Scholar, 500 Volunteer Hours Recognition, and AP Capstone Diploma.

Robert has left his mark on Coronado High School, his community and especially all those he comes in contact with. Robert truly is going to make a mark on this world as he continues his education at Princeton!

To view more Class of 2020 CCSD Star Grads, click here.