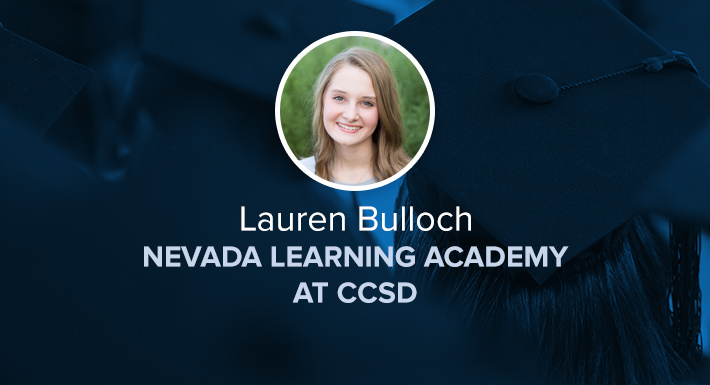 17 Apr

Star Graduates 2019 – Nevada Learning Academy

Lauren Bulloch was born and raised in Las Vegas, Nevada. She attended Palo Verde High School for three years before attending Nevada Learning Academy at CCSD for 12th grade. Her educational history consists primarily of Honors courses, along with regular and AP courses.

With a tenacity for hard work and a love of service, she has enlisted her talents and abilities in various service and leadership roles. For over six years, she has served in the Best Buddies Organization (fostering friendships with those with intellectual and developmental disabilities and special abilities), and currently serves as the second vice president in the PVHS Best Buddies chapter. She has also served in the National Honor Society, National Junior Honor Society and as a representative in the PVHS Student Council.

Throughout her life, Lauren has held many leadership roles in the Church of Jesus Christ of Latter-day Saints, and has been awarded the Young Women's Medallion for completion of Personal Progress. Lauren is an accomplished artist and musician. One of her most cherished experiences has been to perform as a member of Zion's Youth Symphony and Chorus, performing six shows in the Smith Center.

In the fall, she will be attending Brigham Young University-Idaho.