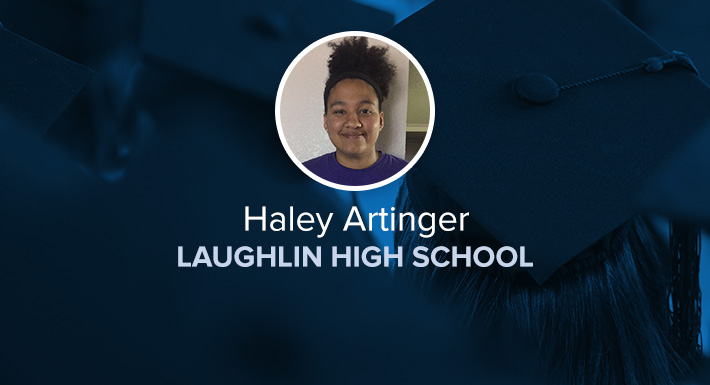 03 May

Star Graduates 2019 – Laughlin

Sometimes, people will grow up with hardships in their life, and it will shape them in an adverse way. Then you meet someone who develops, grows and matures because of their difficult situation. Haley Artinger is that person.

She has every reason to be mad at others, to blame "the system, the man, society" and all the other typical things people blame when they have struggles in life. Instead, she pushes through her day-to-day pains to improve; choosing not to let adversity define her, but rather use those struggles as a stairstep to find success.   

To be around her is to be in awe of a sweet spirit, the desire to be the best and a compassion that is infectious. The maturity she displays makes her a stand-out leader, which is part of the reason she was chosen as the Vice President of Theatre and the Secretary of Choir.

Haley has a desire to stay in the fine arts field and has already been accepted to Southern Utah University with scholarships. Whether she chooses to attend the university or not, her future is bright and will be filled with success because she knows that one should not be afraid of a caterpillar, as it will become a beautiful butterfly.   

It is with great honor that Laughlin Senior High School selects Miss Haley Artinger as its Star Graduate. Look out world, Haley is on her way!

Check out more of our Star Graduates at ccsd.net/students/star-graduates.