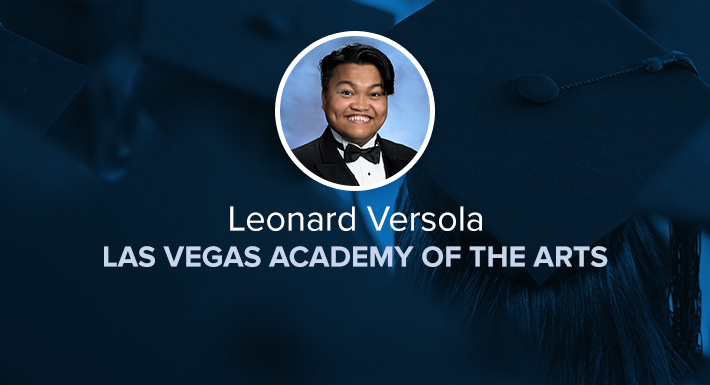 02 May

Star Graduates 2019 – Las Vegas Academy

Congratulations to Leonard Versola, Las Vegas Academy of the Arts' Star Graduate!

His hard work, dedication, and passion in the vocal conservatory and school earned him this recognition. He is a valedictorian candidate with a grade point average of 4.8. He values the importance of the arts and artists in the world, and is a role model for future leaders.

Currently enrolled in three AP classes, Leonard learned to balance academics with a hectic performance schedule as a member of the Academy Singers. As a member of this vocal group, he performed locally, nationally and this year internationally, including an April performance in Vienna, Austria.

Leonard moved with his father to Las Vegas from the Philippines nine years ago. Always positive, with a smile and kind word for others, he said his success is built on good communication skills and working with his teachers to fulfill his passion for learning and music.

With a full ride scholarship to Vassar College, Leonard is the first in his family to attend college. He thanks his father and everyone involved in his education for the opportunities he benefited from in moving to Las Vegas.

"I thank the school. It taught me hope, pride, respect and a solid work ethic," Leonard said.

His passion for music will continue as he plans to major in music education and political science. Leonard plans on a career as a "musicologist," a music curator who will preserve and advocate for the arts.

Check out more of our Star Graduates at ccsd.net/students/star-graduates.