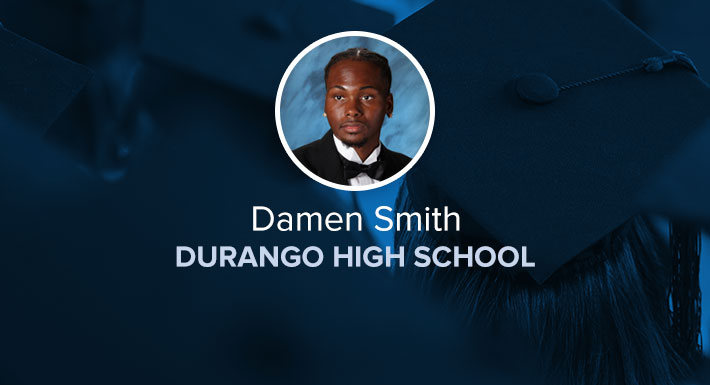 23 May

Star Graduates 2019 – Durango

Durango High School is proud to recognize Damen Smith as its 2018-19 Star Graduate. The road has been long for Damen.

In middle school, Damen struggled with building positive relationships with his peers and with his teachers. As a freshman, Damen admits to getting caught up with older students who were not focused in the right direction. He was frequently in trouble and did not have a plan for his future.

Through some very tough years in high school, Damen's mother pushed him to change his ways and be a positive example for his younger siblings. Damen is a self-proclaimed "mama's boy," and says there was always a little bit of light throughout his troubles because he did not want to disappoint his mother. He admits that the light was almost extinguished when he made some life choices that almost negatively affected his future.

Damen quickly turned his life around. He learned, in his senior year, that it was time to grow up. Damen said, "My household and the Durango environment was needed for me to be successful."

He attributes his graduation from high school to his mom and the many people at Durango High School who never gave up on him. With the consistent encouragement of administrators, his counselor, his teachers, safe school professionals and secretaries, Damen saw a glimmer of light become brighter and he ran toward it.

Damen Smith will be the first in his family to graduate high school. He plans to enroll at the College of Southern Nevada this fall, and hopes to pursue a career as a firefighter. Damen will undoubtedly do great things in life, and the staff of Durango High School is excited for his future.

Congratulations, Damen. You are our Star Graduate!