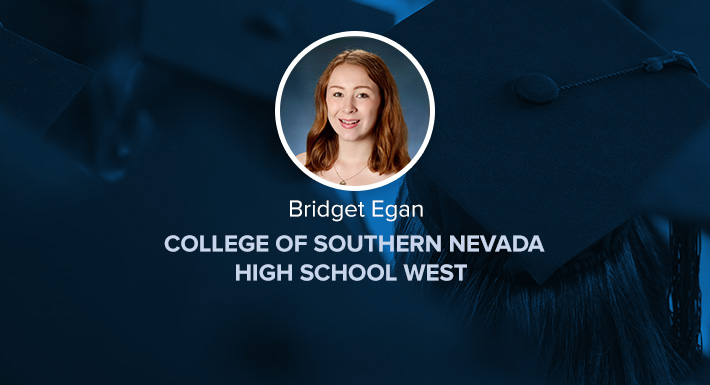 15 May

Star Graduates 2019 – CSNHS West

Bridget Egan embodies all that is good about young people today: dedication, passion and a multitude of talents. As a result of her tenacity, she has developed very clear educational and vocational goals. In an effort to achieve these goals, Bridget has pursued a rigorous college preparatory curriculum. While being proactive to make her goals a reality, Bridget applied to and was accepted at the College of Southern Nevada High School West, a dual credit program. Upon successful completion of all her academic coursework, Bridget will have about 60 transferable college credits and currently garners a 4.625 grade point average.

Bridget is the picture of determination. Since being admitted to CSNHS West, she has purposefully and passionately used her talents both inside and outside the classroom for the betterment of our school. Bridget was the junior class president, and currently serves as the Student Body president. Bridget is not the natural extrovert that describes most Student Body presidents. Through hard work and determination, she has grown strong, confident and knows more about her intrinsic self than many adults.

Bridget dedicates a lot of her time to helping others outside the classroom. She founded a high school chapter of She's the First, a nonprofit dedicated to supporting girls who will be the first in their families to graduate high school. For over two years, she has worked as a theater and vocal coach for Life Long Dreams, a nonprofit organization transforming disability into special ability through arts in Las Vegas. One of Bridget's greatest strengths is her passion for helping others. With that passion, she is able to see a need and, in a systematic way, figure out how best to give support.

Bridget will continue her education at the University of California, San Diego in the fall.

Check out more of our Star Graduates at ccsd.net/students/star-graduates.