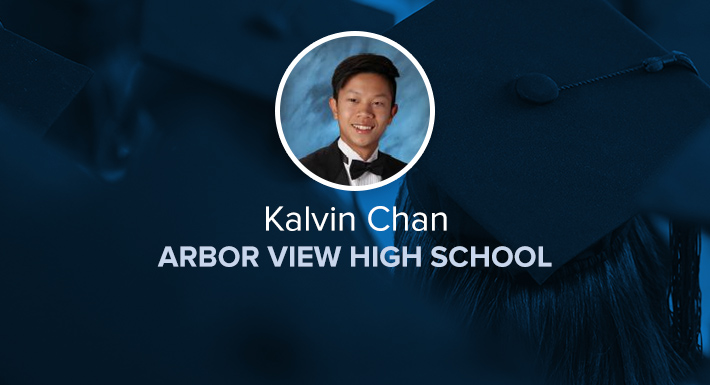 12 Apr

Star Graduates 2019 – Arbor View

Arbor View High School would like to nominate Kalvin Chan as our 2019 Star Graduate. When Kalvin arrived at Arbor View High School in ninth grade, he was determined to rank among the top students in his class. He has been successful in that endeavor.

Kalvin ranks ninth in a class of 755 students, and maintains a 4.7 weighted GPA. In striving for academic success, Kalvin also found opportunities to be a leader on campus. He currently serves as the president of the National Honor Society, and provides service to Arbor View and the community.

Beyond what Kalvin has accomplished academically, he stands out from other students due to his amazing kindness and generosity. Earlier in his life, Kalvin's family faced financial hardship. Their circumstances prevented Kalvin from taking advantage of opportunities that the family could not afford. Kalvin expressed that he never wanted a student to miss out on an opportunity because of their inability to pay. In response to that, he created Threads for Change. This organization, run by students, solicits donations and awards money to students in need of help paying for school fees. In all of his hard work to establish this group, Kalvin's kindness shines through.

Many administration and staff joke that Kalvin will be president someday. His wisdom is beyond his years, and his compassion for others and his dedication to academic success makes him a standout among his peers.

Congratulations to Star Graduate Kalvin Chan of Arbor View High School!

Visit ccsd.net/students/star-graduates to see more of CCSD's 2019 Star Graduates.