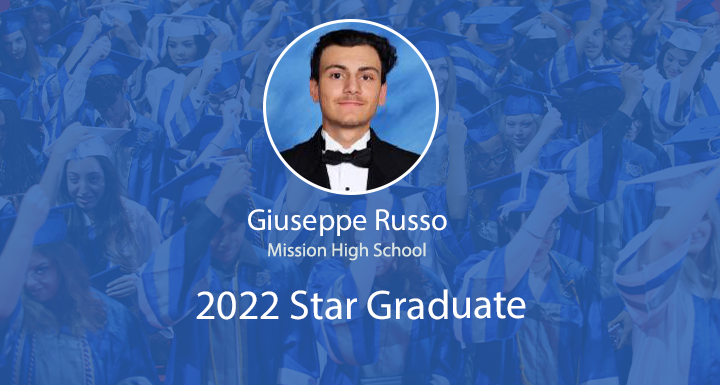 26 Apr

Star Graduate – Mission

Giuseppe Russo is our Star Graduate this year. This young man came to us in August 2020, after spending time in treatment where he worked hard to learn how to manage the challenges that contributed to his substance use. Giuseppe has been honest with where he was and what he could handle. He admitted when navigating through rough times and accepted support, even when he would rather have been left alone.

Giuseppe has continued to work with his therapist and school team to build upon the strategies and tools that he learned. Giuseppe has struggled with anxiety throughout his life and the struggle didn't end when he arrived at Mission High School, but he persevered and pushed through to where he is today. Today, Giuseppe has over two years of clean time! He is a diligent and conscientious student that leads by example on campus, and is adored by his peers and staff! Giuseppe's quick wit, sense of humor, and dedication to his recovery makes him the perfect candidate for Mission High School's 2022 Star Graduate! Congratulations, G!

To view more Class of 2022 CCSD Star Grads, click here.