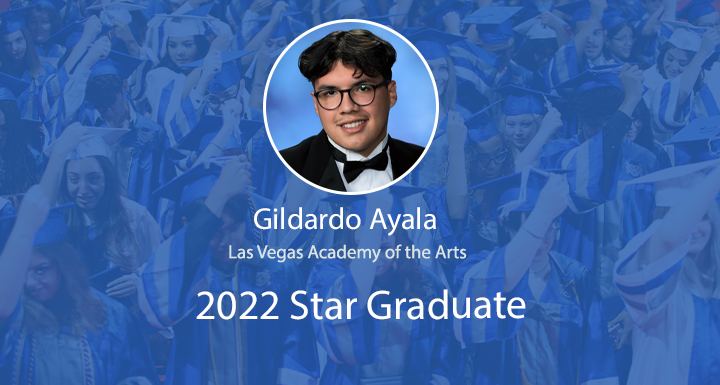 18 May
Las Vegas Academy of the Arts is proud to announce Gildardo Ayala as our Star Graduate. Gildardo is recognized as a kind, hardworking, helpful, and talented student. Currently, he is the content editor for the nationally recognized Eclectic Yearbook, a writer, and an accomplished animation major in LVA's Visual Arts Conservatory.
Gildardo took on helping his mother raise his two brothers and taking care of his grandmother after his father passed away in 2019. He learned to balance school, family responsibilities and hold down a job to help pay bills, all while enrolled in honors and AP classes, earning a 4.9 GPA.
He said he is the first generation of everything in his family and is proud to be Mexican & gay. He was accepted and received scholarships to Otis College of Art and Design, UNLV, and CSN. Gildardo's dream is to use his animation and digital art skills while working with others to "create art for the big screen inspired by my people; people like me, with curly dark hair, brown skin, and brown eyes. To help people understand where we come from."
"He is a respectful individual and always has a smile on his face. With hard work and his positive attitude, Gildardo will achieve everything he sets out to accomplish," said Ms. Jeffery, guidance counselor.
To view more Class of 2022 CCSD Star Grads, click here.