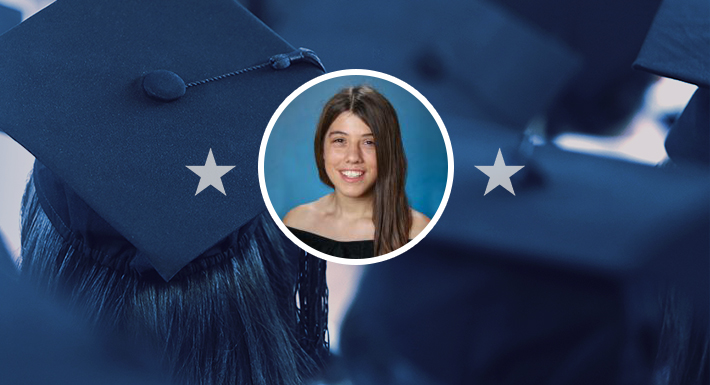 03 May

Star Graduate: Ekaterina Shirbroun of Boulder City High School

Once again this year, CCSD is honoring "Star Graduates" who stand out for academic excellence or for overcoming the odds.

Ekaterina Shirbroun, fondly known as Katya, is a Boulder City High School student who is graduating with an Advanced Diploma and high honors distinction for her outstanding 4.4 GPA. While there are many students with excellent academic records, none at BCHS have overcome the obstacles that Katya has, nor have they achieved as much during their high school careers. Upon completion of the 8th grade, Katya was exited from an IEP for a non-verbal learning disability and processing deficit and proved that no disability was going to get in her way. She has pursued honors and AP coursework, even earning a perfect score on her AP English Language & Composition exam. While her academics alone could set her apart, her extracurricular involvement is also remarkable. Katya was honored by the United Way of Southern Nevada NGAGE program for her volunteerism; she has volunteered more than 650 hours in the last four years. Katya has served as vice president of media for the BCHS chapter of Future Business Leaders of America and has placed at state competitions the past four years. She's also an integral part of the BCHS Thespians, acting in and directing plays, chairing the local board and serving on the Nevada State Thespians Board. She has been a member of both the BCHS Marching band and Choir and even performs with a local choral ensemble, The Red Mountain Choir. When not fulfilling all of those obligations, Katya is a published author, has competed in Poetry Out Loud for the past four years and the Rotary Three Way Speech competition. In the fall, she will attend Southern Utah University, where she has been accepted to the Honors Program and will pursue a degree in theater education. Congratulations to Star Graduate Ekaterina Shirbroun!