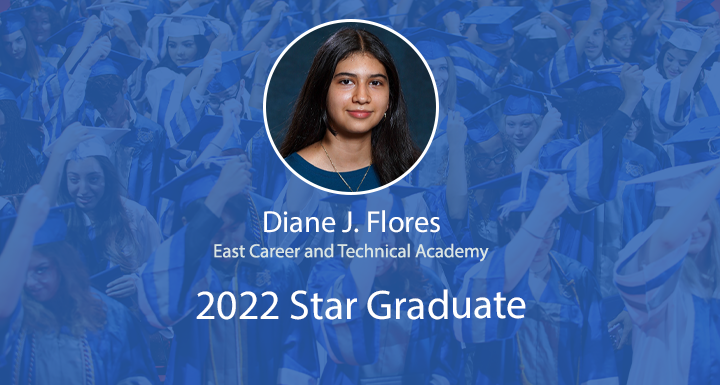 20 May
Diane Flores is the type of student that defines our amazing Construction Program at East Tech. Since her ninth-grade year, Diane Flores has been standing up to be a leader, not only at East Tech but also in her extracurricular activities, far exceeding expectations in both her program area and SkillsUSA, the Career and Technical Student Organization that our Construction students participate and compete in. Diligent, conscientious, and confident in all her endeavors, Diane has truly embraced her passion in the male-dominated program of Construction, not only participating but leading.
Diane was the first-ever female to compete as a ninth-grader in the Construction category for SkillsUSA. She has been an active member of SkillsUSA all four years of high school, won the Silver Medal in Cabinet Making as a junior, and is also the President of this organization.
With the ability to adapt to ever-changing educational circumstances and the discipline to succeed, Diane is in the top three percent of her class with a 4.83 GPA in all honors, Dual Credit, and AP classes. She is a finalist for the prestigious T-Martin Scholarship for $12,000. Diane plans to continue her education in Construction Management at UNLV.
To view more Class of 2022 CCSD Star Grads, click here.