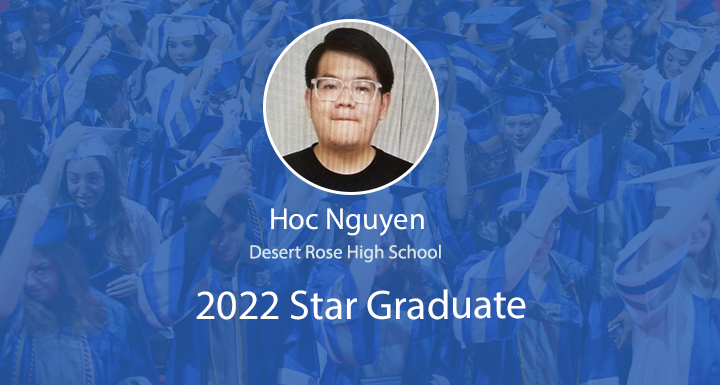 26 Apr

Star Graduate – Desert Rose

Hoc Nguyen is an exemplary student and person. He demonstrates leadership, work ethic, and self-advocacy. From the start of his enrollment at Desert Rose, he expressed his aspirations to go to college and study construction management; he earned a summer internship for construction management as well. Hoc is insightful and has a desire to seek improvement in his life and in his community. Hoc independently developed a plan to strengthen the school community, and presented it to our school as a gift before his graduation.

Hoc wanted to ensure he had all the right classes, and asked many questions about his classwork and how to improve his understanding of the material. He is always willing to ask "why" and reflects on teacher feedback to improve himself as a student. Desert Rose High School knows that Hoc will go on to accomplish anything he sets his mind to, and we are proud to call him our Star Graduate.

To view more Class of 2022 CCSD Star Grads, click here.