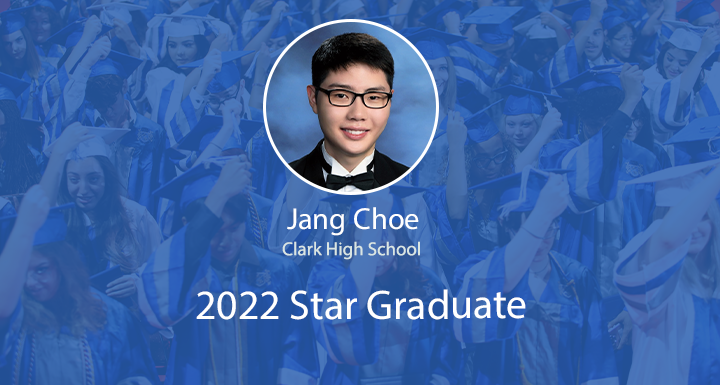 26 Apr

Star Graduate – Clark

Clark High School is proud to present Jang Choe as our 2022 Star Graduate. Jang has achieved unparalleled academic success and has earned a weighted GPA of 5.8 in Clark's AMSAT Program. He holds the title of AP Scholar with Distinction, earning thirteen 5's and one 4 on various AP exams, and achieved a perfect score on both the ACT and the SAT.

Jang is focused, dedicated, but also kind. Jang is a talented violinist with a love of music and is the current concertmaster of the Clark High School Advanced and Chamber Orchestra. In addition, he has found success in Science Olympiad team events, earning 26 local and state medals and 4 National Top 10 finishes.

Jang has spent each of his last three summers conducting medical research in labs across the country, including the UMass Markstein Lab. He is a Conrad Challenge Grant Award Winner for his proposal for a Smoke-Free World. He even holds two patents on medical products AlgaeAid, and PectiGrow. Jang has earned acceptance to several Ivy League schools, including Harvard and Yale. He will begin studying Molecular Biology in the fall and hopes to become a doctor.

To view more Class of 2022 CCSD Star Grads, click here.