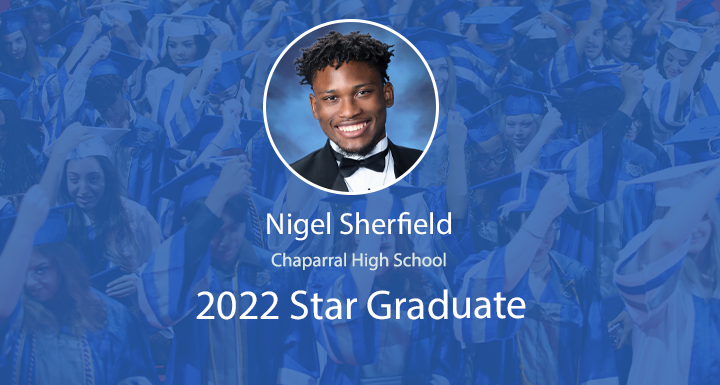 26 Apr

Star Graduate – Chaparral

Chaparral High School has been fortunate to have Nigel Sherfield as an exemplary student for 4 years. Nigel is an honor student with a weighted GPA of 4.1 and ranks in the top 40 of his class. He is intelligent, hard working, respectful, and humble. He is dependable and takes pride in his work. His personality inspires others to do their best.

Nigel has also been a valuable member of Chaparral's basketball teams for the past 4 years. His basketball coach, Christopher Sanders, has witnessed Nigel's strong work ethic. Coach Sanders was most impressed by how Nigel developed into a role model for the younger players and worked well with all of his teammates.

Chaparral High School has no doubt that Nigel will be successful as he moves forward in life due to his excellent leadership skills and winning personality.

To view more Class of 2022 CCSD Star Grads, click here.