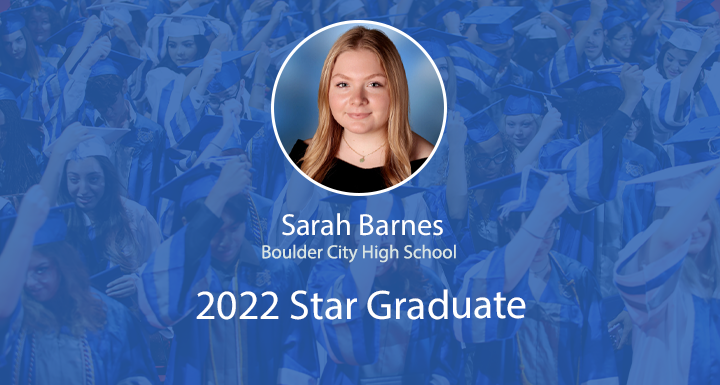 12 May
Boulder City High School is proud to announce Sarah Barnes as its class of 2022 Star Graduate. Sarah is an incredible student. When Sarah was in 2nd grade, she was diagnosed with Chiari Malformation Type I. This required her to undergo brain and spine surgery at the young age of 8. As a result of this diagnosis, Sarah has always suffered from headaches, memory issues, and loss of balance. Her brain gets extremely tired. Although this has been a struggle for Sarah, she pushes through the pain and is an extremely dependable student.
She takes almost all Honors and AP courses, despite these challenges. She pushes herself to do her best and she is successful. Sometimes the headaches are unbearable, but Sarah has a strong determination to not let the constant pain control her. Although Sarah is unable to participate in any type of physically strenuous activities, she has found ways to support her school. Sarah served as a member of BCHS's School Organizational Team and a member of Student Council where she is senior class treasurer. Sarah is a kind and caring friend who is well-liked by her peers. She has already proven she can overcome huge obstacles with a positive attitude and tenacity that doesn't quit. Sarah was accepted into Penn State where she will major in Forensic Psychology
To view more Class of 2022 CCSD Star Grads, click here.