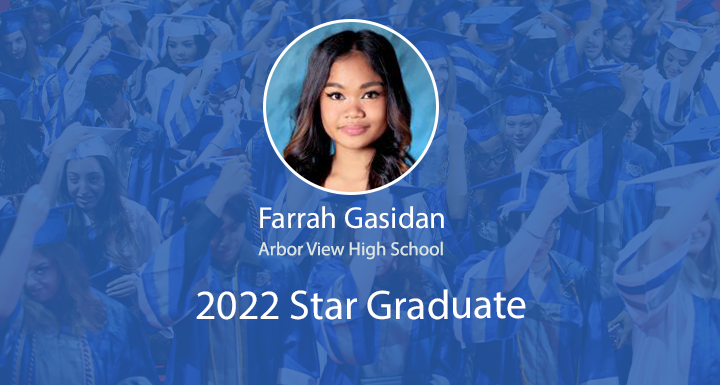 25 Apr
Farrah Gasidan is one of the most impressive students to ever attend Arbor View High School. Farrah maintains high grades while completing intense course work. She is ranked 6th in her graduating class. She has an unweighted GPA of 3.98 while taking 9 AP classes. She has won the AP Scholar with Distinction, Aggie Medallion, and AP Aggie award.
Farrah is the only Arbor View student to ever be elected president of Key Club and NHS and has been for two years. Farrah has volunteered at many local charity organizations, such as Opportunity Village, Animal Foundation, March of Dimes, and spearheaded a letter writing campaign to troops overseas.
Farrah has an aura that all people are drawn to. Her peers look up to Farrah, and the staff smiles when in her company. Farrah is headed for great things.
Farrah has been accepted into one of her top choices for college: the University of Washington. She plans to attend law school and join the Peace Corps. Her goal is to work within the United Nations as a human rights advocate and to become a Representative in the House, then a Senator. Every school, organization and company needs people just like Farrah Gasidan.
To view more Class of 2022 CCSD Star Grads, click here.